Hostgator acquisition is undoubtedly a big news for the webmasters as it is one of the most used and admired web hosting companies. The entire web-hosting forums are discussing this news and moreover everyone is thinking about the precautionary measures to be taken after this acquisition.
Well, the only thing we all can do is to take frequent backup of our websites because the data now will be migrated to a new data center which may result in some of our data loss.
According to the statements made by the CEO of Hostgator, Mr. Brent, the deal would be completed in next 2-3 weeks, so are you guys planning to shift your websites from Hostgator to other webhosting companies?
Well, if you ask me I won't be doing so until and unless I face any problems with the hosting services. Hostagtor has been providing excellent hosting services and as EIG has paid a grand amount to take over the company, I don't think they will take any risk with brand by worsening the services.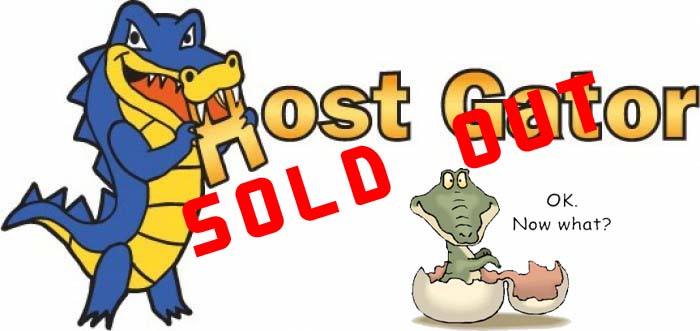 Anyways, I am here today to discuss about the Hostgator Alternatives in the present situation. There are numerous web hosting companies spread all over but most of us are using some of the best ones.
Popular Hostgator Webhosting Alternatives
Below I have listed some of the most popular and trusted web hosting companies.
Bluehost – This is one of the most popular webhosting companies around. EIG acquired this company in 2010. Bluehost is providing its services from individuals to the business owners. It actually provides a complete web solution for webmasters who are looking for an affordable web hosting service.
WpWebhost - This is again a very well admired web hosting company being used by the bloggers and webmasters. WpWebhost is brilliantly compatible with the WordPress blogs and websites.
GoDaddy – In spite of being a well known hosting company, GoDaddy is not preferred by many of the bloggers and webmasters including me. The company however provides good web hosting solutions but the technical support tem here is quite ignorant.
If you are a GoDaddy fan, you might find this post useful
DreamHost – DH is a domain name registrar and web hosting provider based in Los Angeles. It is a widely used web hosting company and it currently hosts on it more than 500,000 sites. Most of them are the core WordPress sites.
I have used Bluehost, Hostgator, and Dreamhost and to be honest enough, Hostgator is my favorite one. But at the same time, if I have to shift my websites from Hostgator to a different host, I will choose Dreamhost for sure.
Also Read:
Do you agree with me? Let me tell you my reasons to go with Dreamhost.
I find it very easy to manage and the best thing is its instinctive control panel. I can manage my shared account easily with this intuitive control panel of Dreamhost.
Dreamhost provides unlimited possibilities including unlimited data transfer bandwidth website storage, hosted domains and emails.
One of the best features of Dreamhost is that I found it extremely easy to host any of my WordPress blogs. I can host any of my blog in just a few minutes using the incredible one click software installer.
The functionalities in Dreamhost are highly advanced and are equipped with various code languages. You can create your own web app using various code languages which include some popular ones like PHP5, Python and Perl.
Dreamhost is excellent at customer care and their 97 days money back guarantee proves that. The customers can get their money back if not satisfied with the hosting services.
You can have live chats with them anytime to solve any of your queries related to hosting and its problems. Dreamhost team also responds spontaneously to the emails.
Dreamhost gives 100% uptime guarantee to the users and this is enough to understand their excellent browsing features.
So, are you going to move away from Hostgator services? Personally, I don't think there is anything to worry about but still if you want to take precautionary measures do take regular backups or move your websites to some other host, Dreamhost preferably (my personal choice!).