Weather applications provide you with a wealth of information, ranging from a daily summary to a monthly outlook.
When you know the weather will be severe in the next few days, you can plan your schedule better.
However, with a plethora of great weather apps to choose from, it can get overwhelming to make a choice.
But don't you worry – we have you covered!
We've listed our top picks of the best weather apps available for Android and Apple devices in this post.
You can use these apps for weather forecasting in the UK (and anywhere globally).
Let's jump right in.
9 Best Weather Apps for Accurate Forecasting
Here are our top 9 picks for the most worthy weather apps.
Enjoy the read and drop me a comment below with your favourite.
1. The Weather Channel (iOS, Android)
Price: Free
The Weather Channel is one of the best iOS weather apps out there to help you plan your travel with confidence. In addition to real-time rain forecasts, the IBM-owned platform measures seasonal allergies, flu, and Covid-19.
The Weather Channel app helps you prepare for the immediate to the long-term forecast by alerting you to present weather conditions and weekly climatic changes.
It is one of the most popular weather apps with over 100 Million installs on Android with 2.5M+ reviews scoring 4.4 out of 5 on iOS and Android.
You can use this software to plan a trip to any location you want, and it will keep you updated with the weather information you need for the next 15 days in advance.
The Weather Channel app is free to download on both iOS and Android (it's ad-supported) and has enough features for most people.
However, you can opt to upgrade to the Premium Pro to remove all ads and add premium features like a 192-hour forecast, 24-hour future radar, 30-minute lightning alert and Windstream.
The Premium Pro in-app subscription starts from £4.99/$4.99 per month or £29.49/$29.99 per year if paid annually.
Key Features
100M+ installs on Android with 4.4/5.0 rating based on 2.5Mn+ reviews
Check out the weather maps for daily and hourly forecasts on the weather and temperatures in your neighborhood
Check weather forecasts, temperature reports, and headlines using the SWEAT (Severe Weather Threat) Index and Umbrella Index, up to two weeks in advance
Live storm radar keeps you safe from flooding alerts
Weather and temperature alerts for your location; stay safe from dry heat and ultraviolet radiation with real-time information
Weather alerts and air quality reports; stay up to date with the latest weather and air pollution information
2. AccuWeather (Android, iOS)
Price: Free
Weather lovers in the United Kingdom have long praised AccuWeather, an effective weather app that has been a favourite among weather enthusiasts.
AccuWeather is an award-winning app with Superior Accuracy in weather forecasting.
It's easy to see why it's so popular. It has a gorgeous, straightforward user interface and offers many data visualization options.
The app simplifies planning various outdoor activities by giving accurate hourly, daily, and 15-day weather forecasts, among other features. In addition, for those who are obsessed with weather news, there is an abundance of articles and video content from their dedicated weather reporting team.
AccuWeather is one of the best weather apps available, thanks to its superb accuracy. A worldwide weather monitoring firm monitors the app, and its value goes beyond its accuracy in forecasting the weather. The app also illustrates rain and allergens in the air, such as pollen from trees, grass, and ragweed.
You can also use the advanced radar map to keep track of the temperature at different times of the day and week.
You may use the fantastic Minute Cast tool to anticipate the weather minute by minute on a hyper-local scale (for example, if you are organizing an outdoor party). However, we recommend only using it while connected to Wi-Fi, or you will soon exhaust your monthly data allotment!
With over 100 million installs, it is without doubt one of the most reliable weather apps on the Google Play Store.
Like many other applications on our list, this one provides severe weather alerts and real-time and 'Feels like' temperature measurements. In addition, live radar, cloud cover, UV index, visibility, allergies, precipitation, and air quality data are among the many essential statistics provided.
A satellite map depicting Earth's most up-to-date and accurate image from orbit is one of the most recent inventions. If you're a world traveller, you'll be relieved to find that Accuweather isn't only for the UK; it offers forecast data for over 3 million locations worldwide!
The AccuWeather app is free to use on both iOS and Android platforms, with all the fantastic features available supported by ads.
However, if you want to get the ad-free experience, you can opt to upgrade to their premium offering for £8.99 ($8.99) per year or £0.99 ($0.99) per month.
Key Features
One of the most popular weather apps globally
100M+ downloads on Android with a scrore of 4.1 (out of 5) based on 2.5M+ ratings
Rated 4.7/5.0 on iOS App store based on 1.5M+ ratings
Local weather forecasts based on your location
Look 45 days ahead of time, not just today's weather, to make sure you're ready for everything
MinuteCast tool for the most up-to-date, minute-by-minute weather forecast.
Weather, storm, and other notifications!
AccuWeather's dedicated news team has the most recent trending videos
Weather forecasting in your style – filter by your preferences and quickly hide any aspects you don't want
3. Carrot Weather (iOS, Android)
Price: Free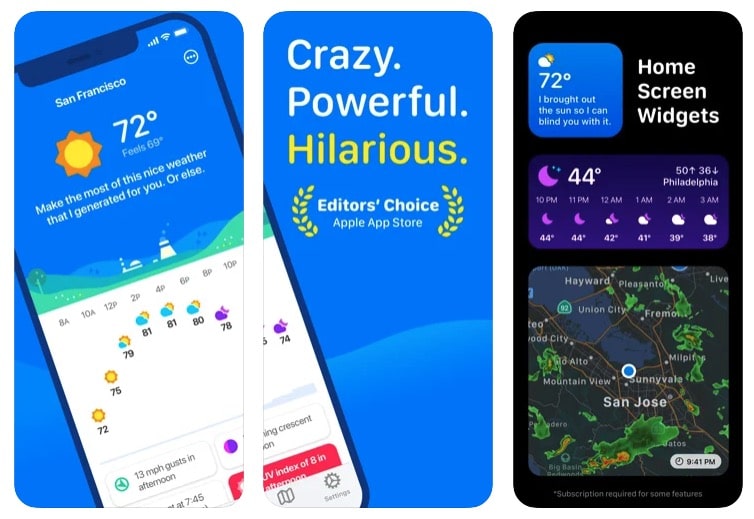 Carrot Weather is a fun way to learn about the weather and is rightly labelled "the crazy-powerful weather app" by the Carrot team. It is the 2021 Apple Design Award winner. It will dazzle you with its user interface, which gives accurate weather information.
If you're like me and want to experience an AI twist to your weather app, CARROT is the one you need.
It does have what you would expect from a good weather app – some valuable, worthy data and, on top of that, some character.
This program
Carrot also has some gamified bits to follow clues to 90+ secret locations and unlock 60+ achievements. You can also use AR to bring CARROT to your living room – try it.
Unlike any other apps on this list, it asked me to choose the personality of the Carrot weather assistant.
Carrot has impressive artwork in the app with outstanding UI, and you will notice as soon as you install the app and are greeted with a warm (or not so friendly) welcome message based on the personality you choose.
You can choose between the below five personalities; the description is right how it shows on the app (no modifications!)
Professional: CARROT will behave like a normal weather app
Friendly: Carrot will act super duper nice
Snarky: Carrot will get a teensy bit mean
Homicidal: Carrot will probably threaten your life
Overkill: Carrot will go way over f*** line
As you can guess, the option I selected in my test was "Overkill" 😂
Carrot is free to download, but you can upgrade to a premium plan.
The premium plan includes adverts removal, home screen widgets, access to additional weather data sources – DarkSky, AccuWeather and Tomorrow.io, and more.
There are three options available.
Premium – £4.99/$4.99 per month or £19.49/$19.99 per year
Premium Ultra – £9.99 / $9.99 per month or £38.99 / $39.99 per year
Premium Family – £14.49 / $14.99 per month or £58.99 / $59.99 per year
Key Features
Super accurate weather data
Current, hourly and daily forecasts
6,000+ lines of humorous spoken dialogue
90+ mystery locations
Customizable widget
Weather time machine
4. Dark Sky Weather (iOS)
Price: £3.49 ($3.99)
Download: iOS
Dark Sky Weather is one of the best weather apps for iOS devices, with a clean user interface available for iPhone, iPad and Apple Watch.
Dark Sky is notable for its interactive globe map, which allows you to zoom in and out of various towns, states, and countries to detect radar, rainfall, and forecasts.
It is an excellent app for weather forecasts that provides precise readings based on previous data and sophisticated algorithms.
You can also get minute-by-minute weather warnings, predictions, and other customized notifications.
Dark Sky provides hyperlocal weather data; thanks to real-time predictions, you'll know precisely when the rain will begin or cease right where you are. (It's a beautiful experience!)
Dark Sky is an iOS-only app and is not available on Android; in Aug 2020, Apple bought the company to be exclusive on the iOS platform.
It costs £3.49 ($3.99) to download, so it's better and cheaper than other apps on this list that change a monthly subscription for premium ad-free features.
Dark Sky Key Features
Minute-by-minute weather forecasts: Dark Sky provides weather forecasts for your exact area, including minute-by-minute forecasts for the next hour and hour-by-hour forecasts for the following week
Beautiful weather animations: gorgeous smooth radar animations that show the path of the storm
Advanced notification settings in case of extreme weather conditions such as thunderstorms, floods, or hurricanes
Widget: shows you what's happening in the next hour or week at a glance, so you don't have to unlock your phone to check the weather before heading out
Time Machine to explore weather in the past and future. Choose a date to see historical or future weather variations
Great looking Apple Watch app to get get notifications and view weather forecast right from your wrist
5. WeatherBug Weather Forecast (Android, iOS)
Price: Free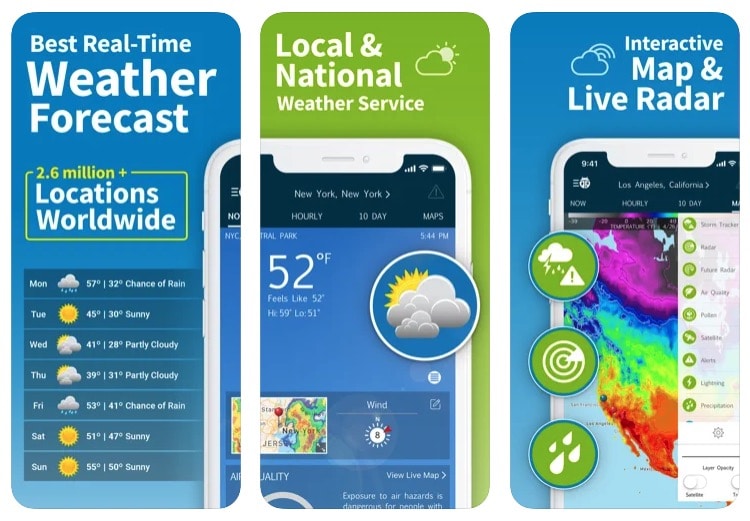 Weather by Weatherbug is an excellent all-arounder weather app that has received nothing but positive feedback.
Using data from its network of 10,000 professional weather stations, you can view precise rainfall radar and real-time weather for every city in the UK, as well as for over 90 nations and 2.6 million cities worldwide.
If you prefer the great outdoors, you'll appreciate some of their specialist forecasts and mapping data.
Winter sports lovers can plan with the 10-day snow depth estimate and real-time snow storm notifications featured in the app. Its Storm Tracker map overlay combines Dangerous Thunderstorm Alerts with an interactive lightning map to keep track of summer storms. You may also receive alerts if lightning strikes within ten miles of your location. When horseback riding, there's no need to be afraid of thunderstorms!
You can also add current traffic conditions and a satellite image with over a dozen customizable dynamic weather map layers, giving you a constant advantage over the weather and road conditions.
The Weatherbug app is free to use with all the features but is ad-supported. You can choose to go ad-free by paying £0.99/$0.99 per month or £9.99/$9.99 for an annual subscription.
WeatherBug Features
Fast Weather Alerts: 50 percent faster alerts with the help of Dangerous Thunderstorm Alerts
The World's Largest Weather Network: You can take access to its revolutionary patented "Total Lightning Network" technology with 10,000+ professional weather stations
More than 90 nations and 2.6 million places all over the globe have weather stations where you can get current conditions, forecasts, and warnings
Interactive maps with great visualisations: Visualize weather conditions with over a dozen different weather map layers
Up-to-date Weather Forecasts: highly accurate hourly and 10-day weather forecasts
Traffic & Satellite Maps: map layers include current traffic conditions and satellite views
6. Weather Underground (Android, iOS)
Price: Free
The Weather Underground app has a fun user experience and provides quick access to personalized weather forecasts based on your location. Weather Underground app includes the world's most accurate hyperlocal forecasts, satellite maps, interactive radar, and weather alerts for your nearby area.
The Weather Company, an IBM company, owns Weather Underground. This software is free to use, but you may need to pay $20 each year to upgrade.
Key Features
Examine the present and forecasted weather conditions.
The current temperature and weather conditions are displayed in the notification bar.
Check out the current weather conditions at your local weather station, including temperature, humidity, dew point, and visibility.
Use 10-day daily and hourly weather forecasts to plan your week.
An interactive weather map displays all of your neighborhood's personal weather stations, as well as animated radar, satellite, and other data.
Hurricane track maps
Make a list of your favorite places and recent searches.
Smart Weather Forecasts – specify your ideal weather conditions for outside activities, and we'll let you know when it's safe to go.
7. Met Office Weather
Price: Free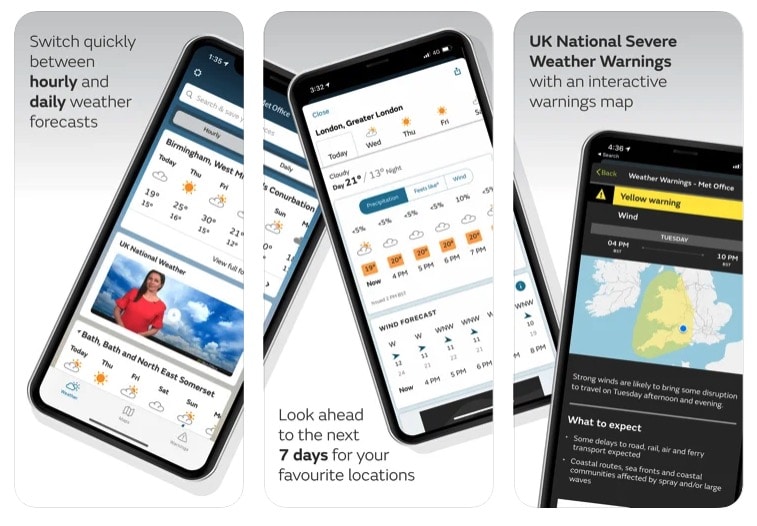 Met Office Weather Forecast is one of the most popular apps on the iOS platform. It is ranked #2 in the Weather category with over 429K ratings and a score of 4.7 out of 5).
If you want peace of mind, go straight to the source, which in this case is the Met Office for us Brits.
The Met Office ("Met" here is short for meteorological) app knows a thing or two about our wild environment as the country's national weather office.
Thousands of UK areas have 7-day forecasts available.
A daily forecast, hourly projections for the next two days, three-hour predictions for the next seven days, weather alerts, a rainfall map, and a "feels like" temperature is all available if you need more information.
Key Features
For your favorite areas, quickly switch between daily and hourly predictions.
Interactive rainfall map with text forecast for the next 24 hours or the preceding 6 hours (manual scroll or play function) Real-time UK National Severe Weather Warnings for your UK saved locations, with an interactive warnings map.
Receive immediate notification of official UK National Severe Weather Warnings for your saved locations, including snow, strong winds, ice, fog, and rain View the most recent video weather forecasts.
8. MyRadar Weather Radar
Price: Free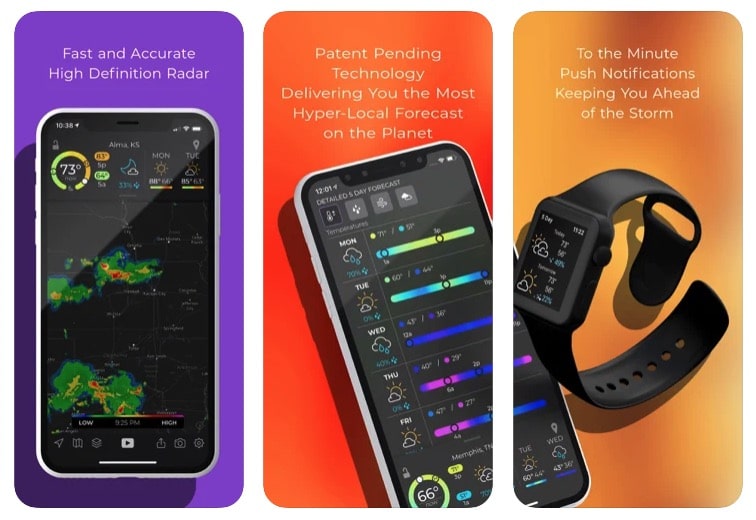 MyRadar displays dynamic weather radar around your current location, no matter where you are. When the app starts, two-hour animated live radar displays. This fundamental feature has made MyRadar so popular.
In addition to the live radar, MyRadar is expanding its meteorological and environmental data layers. It may also transmit weather warnings from the National Weather Service, such as tornadoes and severe weather alerts. Set the app to notify you when a tropical storm or hurricane forms, upgrades, or downgrades.
Your MyRadar app will send you a warning up to an hour ahead of time, including intensity and duration statistics. In addition, the National Hurricane Center's hurricane tracker displays the cone of possibility for tropical storm/hurricane forecast trajectories.
MyRadar is rated 4.4 out of 5 based on 249k reviews on the Google Play Store with 10Mn+ installs.
It ranks #6 in the weather category on iOS with a 4.8/5.0 score based on 836K ratings.
Key Features
MyRadar is a fantastic weather app for iOS and Android
The app's high-definition radar image of the weather is a crucial feature. This will help you to decode the image's exact data.
My radar app's upgraded rain alerts use a patent-pending method for predicting hyper-local rainfall.
Instead of continually monitoring the app, My Radar Pro will send you a warning up to an hour ahead of time, including intensity and duration statistics.
It also covers the whole globe. It's free to use anywhere globally, but it needs proper internet access to provide accurate radar images.
9. RadarScope (iOS, Android)
Price: £8.99 ($9.99)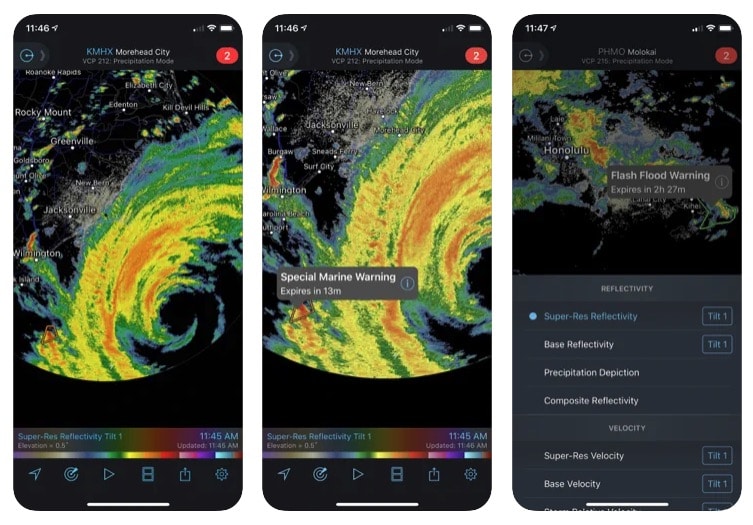 RadarScope app is for weather enthusiasts and meteorologists concerned about severe weather. The app displays weather predictions and different weather alerts in high-resolution.
RadarScope doesn't have UK coverage included yet. Still, if you're interested in accessing data from US radar sites NEXRAD or TDWR, this is an excellent app to access the data from the UK itself (not all apps that provide this data for the US are available in the UK app stores!).
RadarScope also provides you with information ranging from the current situation to the forecast for the next week.
The app covered many tornadoes, severe thunderstorms, flash floods, and special marine warnings issued by the National Weather Service of the United States. You may look through the list of active alerts, select one to learn more about it, and even zoom in on it on the map.
The app is a bit on the pricey side for a weather app and is available for £8.99 (or $9.99) to download on both Apple and Google Play app stores.
RadarScope Key Features
Super resolution radar data with Tornado, Flash Flood, and predicted storm tracks
Displays latest data from NEXRAD or TDWR radar sites
Allows selection of one of the 289 different radars in the United States, Canada, Australia, Germany, Korea, Puerto Rico, Guam, or Okinawa
Access to NOAA's public radar data
---
Why Do You Need an App for UK Weather Forecasting?
One of the primary reasons people need an app for weather forecasting is that these apps provide you with valuable data that helps you know in advance what the conditions are going to be before you plan any trips.
If you live in the UK, you know the weather changes all the time.
It can be sunny one minute and then snowing the next! That's why I use my favourite weather app that helps me decide what to wear, so I don't freeze off out and about.
Using these apps, you can plan your trip efficiently and know what to expect from the weather in the next few hours, days and weeks.
Knowing which clothes to pack, whether to carry an umbrella and if you'll need your warm coat helps a ton with your journey preparations.
Wrap Up: Top Weather Apps
It's possible to mess up your vacation or weekend plan without knowing what the weather is up to.
An accurate weather app that provides reliable weather forecasts is handy and saves the day when planning a trip with your family or friends.
I hope this list of the best weather apps for Apple and Android devices helps you find your favourite.
Most of the apps on this list are FREE, with the most accurate weather data.
All smartphones nowadays include a built-in native weather app, which you might think is appropriate for their situation. But that's until you give one of these apps a try.
These applications can assist you with more detailed data, exciting findings, and unique features to look at the weather differently.
So, what's your favourite weather app from this list?
Or, do you have an absolute favourite that's not on the list?
Whatever be the case, please drop a comment below to let me know!
Frequestly Asked Questions
What is the best free weather app?
A. CARROT is, without a doubt, the best weather app out there. With a clean interface, a funny weather assistant with witty commentary and a freemium option, Carrot is one fun weather app to try out.
AccuWeather is another excellent all-rounder app with accurate data presented using a clean, minimalist UI.
If you'd want the data from the source, Met Office is the best free app for Android and iOS. Among the paid apps, there are several apps like the Weather Channel for Android & iOS, both (premium) and Dark Sky for iPhone.
Which weather app is the most accurate?
Weather Underground and The Weather Channel are at the top when it comes to high-temperature forecasts. However, AccuWeather also consistently surpasses its rivals in predicting temperatures with minute-to-minute predictions.
What is the best weather app for Android?
The Weather Channel and Carrot are the best weather apps for Android. AccuWeather is another excellent app that you can use as it consists of versatile features. Apart from that few other good apps for Android are MyRadar Weather Radar, Weatherbug and Weather Underground.
What is the best weather app for iPhone?
Carrot is the best free weather app for iPhone with clean UX and a lot of data, along with a fun weather assistant. However, looking at paid options, Dark Sky is the best weather forecast app for iPhone.
What is the best weather app for the UK?
The Met Office and AccuWeather are the best weather app for the UK region. Few other apps like WeatherBug & MyRadar Weather Radar, and Carrot are good.