Remember the old school flash games websites you used to play your favourite game for hours?
Fun times, right?
Online games are one of the most widely accessed and loved little pieces of software. Of course, you could have the most incredible gaming console now with the best graphics, but I still prefer a simple online flash game.
Open the browser, and there it is! It has its vibe to it.
It's not that I haven't enjoyed playing Counter-Strike or Need For Speed or Call Of Duty, but mini online flash games have their importance.
I have listed the best flash game websites that offer online flash games for free in this post.
Since Flash support dropped off from modern browsers in 2020, most old flash game websites have aimed to preserve their titles by converting them to HTML5 versions or using emulators like Ruffle. Or provide a way to play them using third party software like SuperNova.
We'll look at all the websites one by one and find out which site has opted which route in this ultimate list of websites where you can play flash games hassle-free.
Let's jump right in!
9 Best Online Flash Game Websites
Let's look at our list of best flash game sites and what each has to offer.
#1. Miniclip
Miniclip is a top-rated games developer and is undoubtedly one of the best websites for flash games. Miniclip was one of the earliest players in flash gaming (no pun intended, there!) and now has several titles that have made it highly popular amongst the gaming fraternity.
Titles such as Clone War Adventure have maintained a loyal army of followers. The Club Penguins, Free Realms, RuneScape, and Webosaurs are some of the titles that are responsible for Miniclip's success.
Miniclip also offers developer APIs to help developers make more interactive and powerful games – not many sites on this list carry this feature.
Miniclip has also launched games for Android and iPhone platforms.
Popular Games: 8 Ball Pool, Agar.io, Flip Master, Krunker.io
#2. Kongregate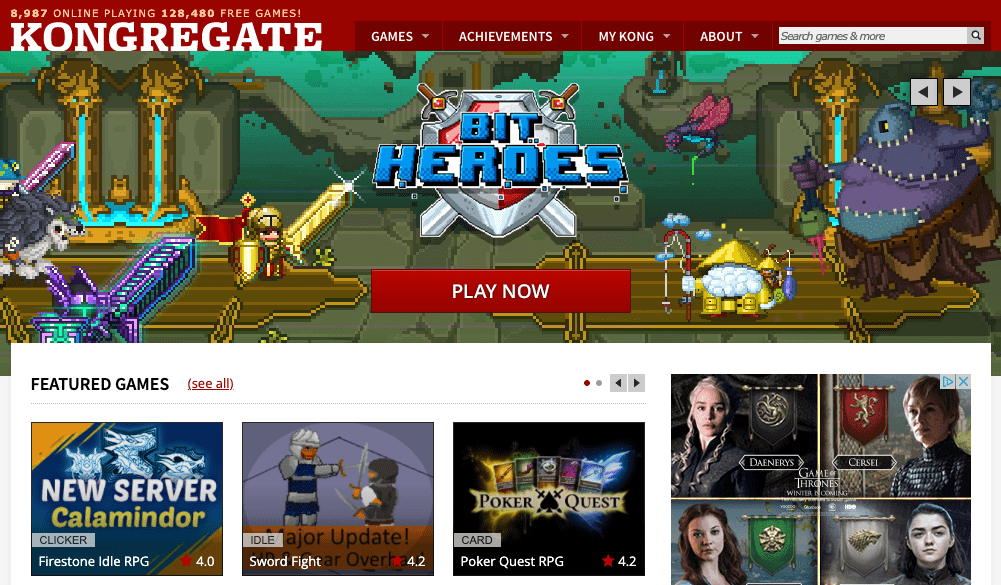 Kongregate is another great option on our top flash game sites list that offers a collection of 128k+ games that you can play for free online.
Kongregate utilises the SuperNova SWF enabler to allow players to continue accessing their flash content.
It also provides various badges on achieving good scores in multiple games. You can share your score on Facebook and show your badges to your friends. Swords and Souls, Zombotron, and Learn to Fly 2 are some of the most popular game titles on the site.
Founded in 2006, Kongregate is also a leading developer of free-to-play mobile games with over 250 million downloads across iOS and Android.
Developers can host their games on Kongregate as it offers an open platform for all kinds of web games. It also provides a publishing program for game developers to access millions of users on multiple platforms.
Popular Games: Mutilate-a-Doll 2, Realm Grinder, Learn to Fly 2, Kingdom Rush
#3. Addicting Games
Home to some of the most viral and addictive games like Helicopter, Kitten Cannon, Tanks and Stunt Dirt Bike, Addicting Games is another premier flash-based gaming site that has a lot to offer.
Founded in 2002, it is one of the first gaming portals on the internet and brought some very prominent titles to the flash-based online browser gaming space.
Addicting Games website has a library of over 4000 games and still keep adding new games every week. In addition, they have ported and published their most popular flash games into HTML5. And more recently used Ruffle emulator to support all of their flash games within your browser, saving the classics from extinction.
All the games on Addicting Games are free to play supported by ads. However, you have an option to go ad-free with a Game Pass costing $2.50/month (paid annually or $3.50 paid monthly). In addition, their premium account can be used by five family members and friends and gets you early access to upcoming games.
#4. Armor Games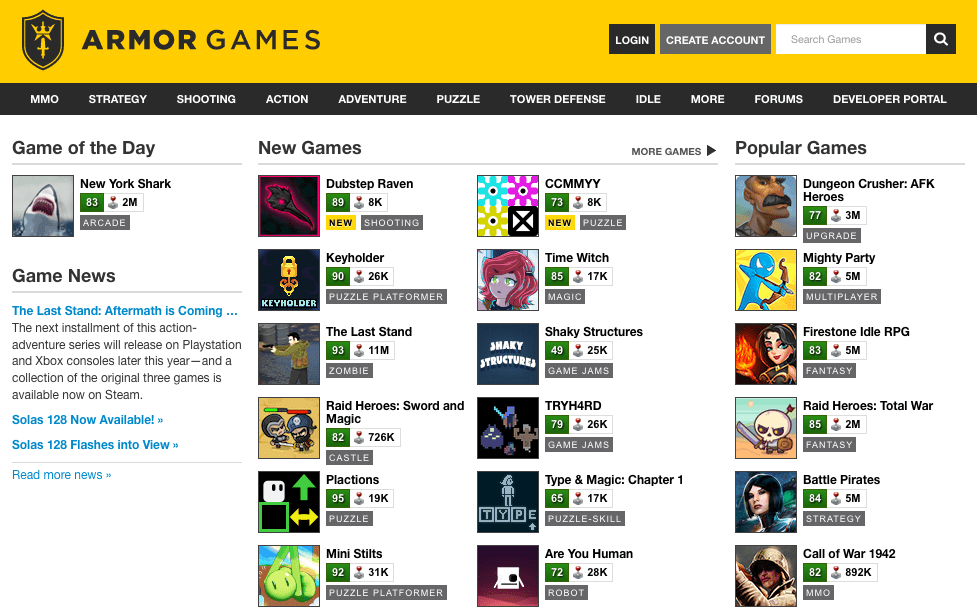 Armor Games (formerly known as Games of Gondor) is another old flash-based website founded by Daniel McNeely in 2007 in California.
The site has games across various genres like puzzle, shooting, strategy, racing, etc. The company rose to fame due to its Lord of Rings themed games such as Hob the Hobbit, Battle for Gondor and Orc Slayer.
Armor Games has over 3700 games in its flash games category.
Unfortunately, not all of them work now (after the death of Flash) as the games need converting to a format compatible with modern browsers.
Armor Games have taken a different approach to Nitrome (later on this list) and don't want their games to require a third-party app (like SuperNova Enabler).
Instead, they used Ruffle, a flash emulator that enables playing the games within the browser. Armor team is gradually bringing more of their popular games to the emulator version so you can play them right from your browser without requiring any additional software.
Let's talk a bit about the Armor website.
In terms of the overall layout and categorisation of games, I found the Armor website very easy to navigate and explore the different games and genres.
#5. BestFlashGames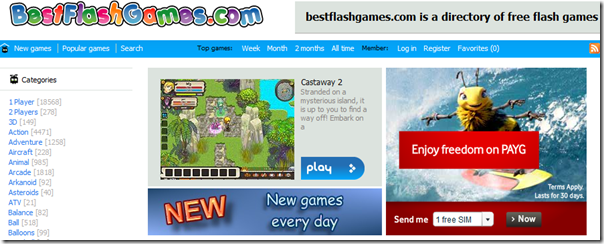 BestFlashGames is a directory of free flash games. The site claims to add new flash games each day.
Games are listed in various categories, which make navigation quite simple. Truck Loader and Battlefield are two of the most popular games.
#6. New Grounds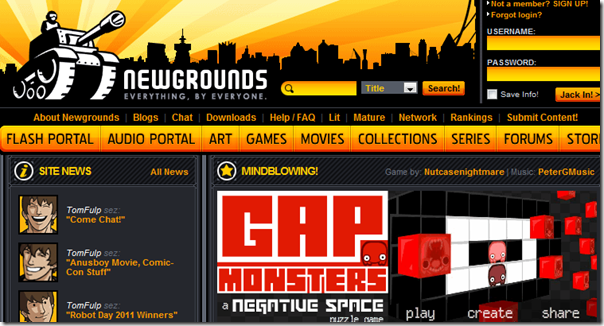 Newgrounds is an American based website that Tom Fulp founded in 1996. The website is the oldest Flash portal website and has an indigenously built user rating system. This website has many games across various genres like action, puzzle, casino, adventure and much more. Besides this, the website has several movies and audio offered for the visitors.
#7. Games.co.id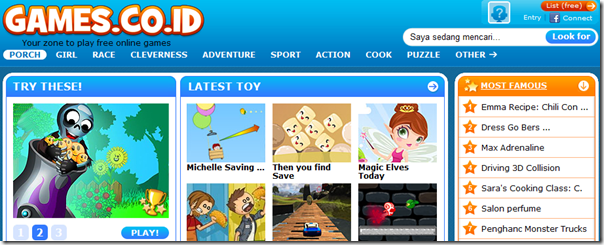 Games.co.id is another excellent website that offers good flash-based games. A variety of games are provided for free and are across various genres like sport, adventure, action, puzzle, multiplayer, etc. The website is in the Indonesian language, but you can translate it anytime using Google translate.
#8. Nitrome
Nitrome is another worthy flash gaming site with 160 flash game titles available. Twenty-three of these have already been converted to the HTML5 version; the rest are in the works.
Using the SuperNova chrome extension, you can access the entire Nitrome catalogue of 130+ flash games that haven't been converted to the enhanced HTML version.
The games are arranged into separate Flash and HTML5 categories so you know which ones will require you to install the SuperNova add on.
The Nitrome website looks a bit old-ish; don't go by the site's look alone. The games are great, and they work well. Nitrome team have plans to upgrade the look and experience of their website that is in the works.
Famous games: Flightless, Bad Ice Cream, Ditto, Feed Me, Nitrome Must Die.
Bonus flash game sites
#9. BlueMaxima's Flashpoint
The BlueMaxima's Flashpoint project is dedicated to preserving the internet history and culture, and Flash for sure makes for a significant candidate.
As you would know, Adobe announced the end of Flash in 2017, with browsers aiming to withdraw support for Flash in favour of the more advanced technologies (like HTML5).
Meaning: the death of flash games and other flash-based media content with it.
Ben Latimore, an Australian chap, came to the rescue and founded Flashpoint, intending to preserve as much flash content as possible. Flashpoint is a community-run project that has successfully saved more than 100,000+ web games and 10k+ animations running on Flash with the help of 100+ enthusiast contributors and fans.
How to play Adobe Flash games without Flash?
When you try to access an online game that requires the Flash (SWF) player on the websites that support the SuperNova enabler (like Kongregate), you'll see the page asking for the SuperNova extension to be installed.
Like this:
When you see this page, click on the link to the Chrome extensions page and install the SuperNova SWF enabler chrome extension.
After installing the extension, come back and refresh the flash game site. If everything goes well and the game supports the SWF player, the game will now load.
Wrapping up
I hope you liked our comprehensive list of the best flash game websites out there. These websites have worked towards preserving the legacy created by these awesome top flash games.
Which one on this list is your favourite? Or if you know a good gaming website that is a house to flash games and is not on our list, let us know in the comments section below and if it fits our criteria, we add it here.
Happy gaming!
FAQs about flash games websites
Here are some frequently asked questions by our readers about the best flash gaming sites.
Can I still play flash games online in 2022?
Adobe Flash revolutionised the internet during its time (1996-2020). But, vulnerabilities and security concerns and advancements in technology led to better alternatives and eventually, Adobe announced the end of its support for the flash player back in 2017. As a result, by the end of 2020 and early 2021, all notable browsers stopped supporting the flash player, and in turn, any media hosted using the flash tech.
Even though Flash is officially dead, a growing selection of flash games has been made available to browsers using HTML5 and Ruffle emulator.
For any flash games you want to play online that hasn't been converted to the HTML5 version or updated for Ruffle emulator support, you can install the SuperNova extension in your Google Chrome browser. Sadly it's available for Windows only for now, and the Mac version is in the works).
I have SuperNova extension installed but still cannot load the game?
Try clearing your browser cache and then reloading the page. If it still doesn't work, try your browser's incognito mode or restart the browser once.
How are flash games still playable if Flash is dead?
If Flash is dead due to security vulnerabilities, how can you still play the games? The famous flash games are converted to the HTML5 versions that run off the same code from the original files of the flash game (more like an emulator). As an added benefit, you can play these HTML5 versions on your mobile browsers too.
Alternatively, some websites like Addicting Games and Armor Games opted for Ruffle emulator support that removes the dependency on SWF player for running flash content from within the browser. So, the flash games run just like your browser still supports it – thanks to Ruffle emulator magic!
Which is the biggest flash game site?
Going by the number of games and the kind of games these websites support and their contribution to keeping the flash games alive, Miniclip, Addicting Games, Kongregate and Armor Games are the biggest.
Are Flash games dead?
Flash is dead; flash games are not! Thanks to the developers who have worked hard to convert their popular flash games to HTML5 and tools like Ruffle emulator, Flash games are pretty much still alive and available on the top flash websites listed here.
What is the SuperNova player?
Supernova player allows you to run .swf (flash files) in a standalone window on your PC. It will enable the gamers to play their favourite SWF gaming content easily. Currently, there is no standalone player available for Macs; as per the Supernova website, it is in the works and coming soon – not sure when though.
This post was initially contributed by Dan Jaslanek for Technolism in July 2011 and has since been updated several times by Aman for the accuracy and correctness of the information provided.