Tired of spending hours writing blog posts? AI writing tools like KoalaWriter might seem to be just the ticket.
KoalaWriter is based on GPT-3.5 Turbo and GPT-4 AI models and promises to take your content creation process to a whole new level. But can one-click solutions really deliver quality long-form articles? Let's find out in this in-depth KoalaWriter review!
Disclosure: This post contains affiliate links and might earn us a small commission if you make a purchase at absolutely no extra cost to you.
Now:
I am a paying member of the Jasper Boss Mode (claim 10,000 words free) for over a year and I love how AI can simplify the writing process especially when you don't feel motivated enough to write or are just burned out from writing. AI writing tools have become an essential part of my content creation process.
Nevertheless, when I heard about Koala AI and its promise to deliver long-form blog posts with just a single click, I had to try it. I am all for tech and tools that can help me produce better content faster. So, I decided to give Koala AI Writer a shot and see if it delivers what it promises.
I was initially sceptical, TBH. That's partly because there's a flurry of AI writing tools out there, and not all of them are worth the money.
So I went ahead and took Koala.sh for a spin.
And this is a detailed review of my experience using KoalaWriter and KoalaChat.
I'll cover how it works (in detail w/ screenshots) and some tips you can use to better your outputs.
I have included the details from various perspectives, so this will review will help you if:
you're new to AI writing software altogether,
you have tried ChatGPT and didn't get the desired results or thought it needs too much prompting to get the desired results or,
you use an existing AI writing tool like Jasper and looking for better AI execution for use cases like one-click blog posts, real-time SERP data inclusion, and auto Amazon product review roundups (this one is mind-bogglingly crazy!)
Let's get started!
KoalaWriter Review: Quick Summary
Want my quick take on whether KoalaWriter is worth your time and money or not? In short, KoalaWriter is an impressive AI writer and a great ChatGPT alternative, and in my view, worth the money. Go to koala.sh and try it for yourself (5000 free credits using my link).
You don't need to signup or give your card details to claim your free word credits. Just go straight to this link and start generating your first post. Great start!
Connor (Koala developer) already had my attention from this point on.
The ease of generating my first blog post and then an Amazon roundup closed the sale. Just a few clicks and keyboard taps!
One of the best things about KoalaWriter is how easy it is to use. And how quickly it generates long-form blog posts. All you need to do is provide a few prompts, such as your target keyword and desired tone of voice, and the AI does the rest. In just a few minutes, you'll have a full-fledged SEO-friendly blog post that's ready to be published.
But don't let its simplicity fool you. KoalaWriter's AI is incredibly sophisticated, allowing it to create SEO-friendly articles that are optimized for search engines. It even integrates with real-time Google search results and Amazon product data, making it ideal for generating both informational and affiliate content.
Koala uses ChatGPT-3.5 Turbo and ChatGPT 4 (you can choose the model) when generating content.
If you decide to go ahead and sign up, you can either go for a monthly subscription that starts from $9/month and goes up depending on the number of words you need.
Or you can take advantage of the LTD.
Pros
One-click long-form content generation
Integration with Amazon for real-time product reviews
KoalaChat with real-time data integration which is better than ChatGPT Plus subscription
Integration with Google sheets
100+ languages
Plans start from $9/month
Full 15-day money-back guarantee
Cons
GPT-4 uses 5x credits compared to GPT-3.5 model. Might go down as GPT-4 prices reduce
LTD expired
KoalaWriter Lifetime Deal (LTD)
As KoalaWriter has just launched, there's an ongoing Lifetime Deal that you can buy until 17 April 2023. It's 27 March 2023 only now! ⏳
Koala lifetime deal plans are no longer available for purchase.
The lifetime deal plans start from $89. If you buy a Professional LTD plan (or above) before 27 March (Monday 23:59 PST) using my link and apply code "LAUNCH" at checkout, you will get and 30% OFF. That's over and above the LTD price.
What that means is: For the Professionals LTD offer, you'll pay $449 $314.30 after applying the 30% LAUNCH discount on top (which equates to about 6.5 months if you signed up on a monthly plan – $49/month).
So after a little over 6 months, Koala is yours forever to use!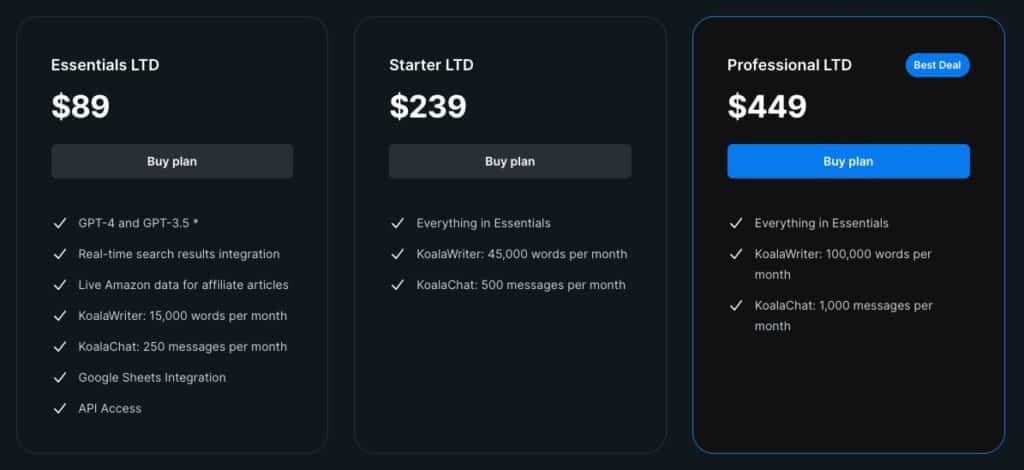 🚨 Update: Due to huge demand, the LTD deal now expires on 27 March (Monday 23:59 PST). So if you want to get your hand on to the lifetime deal on this awesome tool, you need to hurry! Use code LAUNCH for 30% off.
Here's what the update said:
I went for LTD because I missed the boat on Jasper when LTD deals existed there. I see the potential in Koala and believe in what Connor has developed – his responsiveness on the Discord community and how quickly he's churning out new features is just mind-blowing. So, I locked in the deal while it exists.
Overall, Koala AI Writer is a tool that I would highly recommend if you're looking for one-click long-form blog posts and automated Amazon roundups. It's easy to use, fast, and effective – I'm already seeing results from my content generated through the tool.
Koala has two tools at the moment – KoalaWriter and KoalaChat.
Let's look at how they work.
How Does KoalaWriter Work?
To begin, KoalaWriter is an AI-powered content writing platform that uses a combination of natural language processing (NLP) and machine learning to generate long-form blog posts in a few minutes. It is based on ChatGPT-3.5 and ChatGPT-4 (only for paid users).
All you have to do is input a few keywords related to your niche (target keyword).
Click the "Create Article" button and sit back for AI to do its thing.
Let's look at how it works from start to finish.
Step #1. Go to KoalaWriter
Simply head over to KoalaWriter and take it for a spin using the free credits.
Step #2. Select Your Settings
Just select the below parameters to let Koala know what you want it to write:
ChatGPT version: GPT-3.5 or GPT-4 (GPT-4 is only for paid users for now and uses 5x credits as it costs more to use the newest ChatGPT model)
Article Type: you have two options for now; Blog Post and Amazon Product Roundup
Target Keyword: just enter the primary keyword you want to target
Tone of Voice: You can choose between SEO Optimized, Excited, Professional, Friendly, Formal, Casual, and Humorous. I usually leave it to default (SEO Optimized).
Language: The default is English (US). You can change it to English (UK) if you want ir you can choose from 100+ languages on there.
Use Real-Time Search Results: GPTs learning cut-off is around September 2021 but you can enable this setting for the Koala to combine GPT model with the Google SERPS to give you an accurate account of information. I usually keep this on and it usually is bang on with recent information.
Use Outline Editor: Again, I always keep this On. It creates a nice outline of the post that the AI is going work on. This way you already know what's coming! You can edit the outline, add to it or delete sections.
Step #3. Advanced Settings (Additional Prompts)
You can skip this step altogether and just click "Create Article" after the above step and Koala AI will do its thing.
Or, you can click Show Advanced Settings to provide some extra prompts and let Koala Writer tailor to your specific requirements.
It brings up these additional options where you can guide the AI to follow your instructions:
Extra Title Prompt: additional instructions for the title (like choose a title with power words but still include my primary keyword)
Extra Introduction Prompt: additional instructions for the introduction paragraph (example: answer the query using the main keyword and bold the answer)
Extra Content Prompt: additional instructions for a specific section in the article (example: write from a second person perspective and use short paragraphs with maximum 3 sentences)
How Does KoalaChat Work?
Similar to the Koala Writer, KoalaChat is also pretty straightforward and simple to use. If you know how to use Messenger or WhatsApp, or have used ChatGPT already, you'll know what to make of it!
Step #1. Go to KoalaChat
Head over to KoalaChat.
Step #2. Type in your query and hit send
You can also choose to switch the Real-Time Data toggle to On and have Koala AI refer to real-time search results to fetch your results.
Koala will take a few seconds to process your query and come up with the answers.
In this example, I asked KoalaChat "how much is one bitcoin" and it responded with this taking live data from CMC and citing the source with a link:
I've found KoalaChat to be useful when for example, you have got your first draft out from KoalaWriter and want to extend on a certain section, or just expand on the topic, overall.
KoalaWriter: Features That Stood Out For Me
One-click blog posts
Koala AI does a few things and it does them quite well. My favourite feature is the one-click blog post; something I wish worked a bit better with Jasper.
I mean Jasper produces great content too that's totally workable (and passes AI detection tests). But, the content output from the one-shot blogpost template is not long-form usually. Still, a decent starting point to then develop using Boss Mode which has been working great for me so far. When Jasper released one-shot blog posts template, it was just WOW!
Now, Koala takes it to a whole new level with its one-click blog post feature; the content is long-form. You don't need to keep prompting ChatGPT.
It takes me a few minutes to generate a comprehensive, keyword-optimised post that I can then start editing to make it my own.
There are repetitions and you do need fact-checking (definitely recommended for everything you generate with AI) but you have a great first draft that you can edit or just review and publish. In minutes, not hours!
Amazon roundup (product reviews)
Koala integrates with Amazon so you can use the product review feature to generate real-time product roundups.
When you select the Article Type as Amazon Product Roundup, the AI writer automatically finds the best products on Amazon for your target keyword using up-to-date product data, specifications, and reviews.
Typically, I use Jasper Boss mode to assist me with this and it works great – just that I need more time to execute the idea I have in mind. I have also seen YouTube videos where people generate decent reviews using ChatGPT itself but it needs a lot of prompting – you'd know this if you have used ChatGPT.
With Koala, you can just provide your target keyword like "best kitchen knives" and select "Amazon product roundup" from the dropdown. Hit Create Article. And sit back. Relax.
And to be fair, again, KoalaWriter gives you a very decent first draft to review (and edit if you feel the need). Because it is reading the content off of Amazon product pages in real-time, you don't need to manually include the product features in your post. Koala does it!
I tested it – it's pretty good job at that!
It even includes data like product ratings. And it adds images too! 🤯
Now, there are a few limitations to the Amazon integration – for now!
You can only have US products; other countries are not yet integrated
Update 27 Mar: Connor released a new update you can now pick from 22 different regions.
Koala picks the top 5 "featured" products from Amazon
Update 27 Mar: Koala now allows you to select the number of products you want to include. You can also input the Amazon search URL to specify the products to include. Sweet!]
Unable to add Amazon associates (affiliate) tag to the product links
Update 27 Mar: You can now include your Amazon Associates ID in the input form
Koala will soon have features to be able now allows you to select your region (UK/US etc) and add your affiliate tag along with the specific products that you want to be included in your review posts.
Realtime SERP data
You can have KoalaAI refer to the active search results and cite them in your content. That's very handy if you want to include data and statistics in your content.
However, a common complaint that I saw users reporting on the forum (and I faced the issue as well) is that Koala doesn't know your competitors and attributes a link to them. You might not want that to use this feature effectively.
That's something, again, Connor says is on the roadmap so maybe a selection feature could be coming where you can select who to refer for citation. For example: cite only .gov or .org or, just an ability to block a set of specified domains. I'll update this review when that happens.
Google sheets integration
If you have always wanted to integrate ChatGPT with Google Sheets, Koala provides a way to do it in 3 minutes. Using Koala's API, you can get ChatGPT responses directly in your Google sheet without the need for any scripts.
You can use this formula:
=IMPORTXML("https://koala.sh/api/gpt/?input=YOUR_PROMPT&key=YOUR_API_KEY", "/")
That's it!
I can do a separate post showing how it all works – let me know if you'd want to see that working.
100+ Languages
You can use Koala AI to generate long-form content for your sites in more than 100 languages. That includes English (US and UK), German, French, Hindi, Irish, Japanese, Chinese and many more. Check the full list here.
In case it goes to tell you how quick Connor is with implementing changes and features that users are requesting, Koala multi-lingual support was requested by users on Discord. Connor implemented it in days.
KoalaWriter AI: Cost
The KoalaWriter subscription plans start from $9/month for the Essential Plan. That includes 15000 words per month along with 250 message credits for KoalaChat. The plans go all the way up to $2000/month for 10M words. So there's plenty of choice for you to pick.
The best thing is all the features are included in all the usage plans; the only difference is the number of words/chat credits you get every month.
Also, bear in mind that the GPT-4 usage counts 5x credits compared to GPT-3.5. For example, on the Essentials plan that comes with 15,000 words, you can generate full 15K words with GPT-3.5 but if you use the GPT-4 model, the Essential plan will give you 3000 words only. So choose accordingly to your content needs.
Here's what I recommend:
Take KoalaWriter for a spin using the free credits (5000 words); you can access only the GPT-3.5 version though. Then you can opt to subscribe to the Essentials plan at $9/month which gives you 15,000 words and see how you get on from there based on your usage. All paid plans include access to GPT-4.
KoalaWriter: My Experience
I usually write around 2-3K word articles in an hour or two (using AI's assistance); sometimes a bit more (even days), depending on the topic and the research it needs.
Having used Jasper AI for well over a year, I know the templates and recipes very well. I know what it does best, and what prompts produce the desired results so I knew the kind of tests I had to put Koala to. I'll do a detailed Jasper review soon – let me know in the comments if that interests you and I'll line that up.
Surprisingly, Koala didn't take too long for the first draft to be ready. Within a few minutes of clicking on 'Write article,' I had the first "full" long-form post ready. For my editing.
KoalaWriter AI – Features I'd Like to See
I am an LTD plan member and went for the lifetime deal with some expectations in mind (I don't usually buy LTDs unless I totally believe in what the product has to offer!)
So, I do have some expectations from the tool and the dev team.
I have already requested/suggested some features to Connor and he's taken the feedback onboard. Here's a list of a few features that have been requested and will be exciting to see if Koala can deliver on expectations.
Like me, there are a lot of people on the forum that are long-time Jasper subscribers and want to test Koala as a potential replacement.
Regenerate Sections of the Content
I'd love the ability to be able to edit/regenerate sections of the draft that KoalaWriter creates. Not every word that Koala generates is great. It sometimes goes off-topic or writes the content in a certain way which might not fit the tone or the purpose. Being able to select the text and regenerate based on various options like tone, length, expand, and explain to an 8th grader would be fab!
Tweaks to the Amazon integration
I think I have covered it already but basically, the ability to select products I want to cover and being able to select the default region and my affiliate tag is a must-needed.
Integration with other tools
There are certain tools that are part of my workflow that I'd love to be able to integrate from within Koala's writing screen – Grammarly, Plagiarism checkers, AI Detection tools?
Article Length
Being able to select the length of the content that I want to generate while creating the prompt would be nice. Not every keyword needs 1500 words to rank, for example. It'll save word credits for the users and for Koala, the wasted server/API costs on words that I might not even use.
To take it to the next level, because Koala can already access the SERPS, it could even recommend the article length that's required to rank for the given keyword.
That would be amazing!
I have shared this with Connor, will see what he thinks about this.
Ability to save snippets and templates
This one is actually a two-edged sword so I understand the devs focus on doing fewer things but very well. But having some sort of templates that can be used over and over might help the workflow.
History
There's currently no history to whatever Koala is producing (at least I couldn't find it in my tests). So if I were to go back to what Koala generated, I'd have to have it either manually copied the content or downloaded as HTML.
Conclusion
If you're a content creator, blogger or affiliate marketer looking to save time and money creating content, Koala AI Writer might just be the tool you need.
If you have used AI writing software in the past and always wanted them to be able to do one-click long-form blog posts, you need to take Koala for a spin and decide for yourself.
Let me know how KoalaWriter and KoalaChat for your content generation workflow.
Is there anything that I haven't covered here that you would like to know before you went ahead with the monthly subscription or lifetime deal? Let me know in the comments and I will add it for you right away.