Today, we are going to discuss the features of the new Sony Ericcson's video Walkman launched on 23rd August, 2010 in India to capture more market in the compatible music player industry and also keeping in mind the competition from the Apple I-Pod nano 4th generation. So, let us find out which one out of these two proves to be a greater value for your money or simply the best among these in this post which is called "Clash of the Music Players: Apple iPod 4th Gen v/s Sony A Series Video Walkman"
This Sony Video Walkman with OLED Screen falls under the Series A walkman of Sony. Other walkman Series by Sony are under W Series and B Series.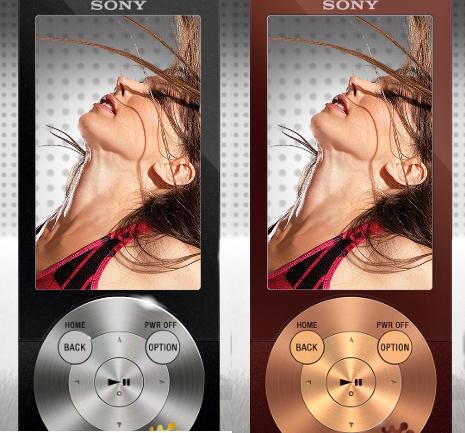 V/S
Many of you who are looking forward to buying a Video music player, might be confused between the Apple iPod and the recently launched Sony A series Video walkman which boasts of an OLED screen. Both have almost equivalent features. So, below is the comparison between the two which would help you in arriving to the final decision.
Both of them come with the memory size ranging from 8 to 16 gb which in turn save upto 2000(8gb) to 4000(16gb) songs respectively and 8(8gb) to 9(gb) hours of video resp.
Sony ericsson's new video walkman comes with an OLED screen which in turn comes with the brighter display and more clear display in action or sports scenes and 2.8 inch of screen size, where as the screen size of the I pod nano is 2 inches but it comes with the classical wheel style which is more easy to navigate.
Both of them come with an accelerometer which is used to shift the screen with the  horizontal and vertical shift of the device.
The battery life for the Sony one is 31 hours of continuous audio and 9 hours of video and Ipod nano is 24 hours and 4 hours of continuous audio and video simultaneously. The Sony Ericsson video walkman has an inbuilt fm tuner whereas in case of I pod Nano, it has an external one.
The charging time is same for both of the music player which is 3 hours  for full charge and ipod nano has fast charge upto 80% in 1.5 hours.
Price of 8GB and 16GB Sony OLED Walkman – Rs.8990/- and Rs.11990/- respectively whereas the price of Apple iPod nano 8GB is Rs.6,900/- and 16GB – Rs.9,500/- in India.
Conclusion:
The iPod Nano has a comparative advantage in terms of price in comparison to Sony Ericsson A series video walkman, but the Sony offers bigger screen and longer battery as compared to the iPod Nano and also has an inbuilt FM tuner for those who love the fm along with the pre-loaded music.
Now we are eagerly waiting for the new iPod nano 5th generation to be launched in India.
So, out of the Apple iPod and Sony Ericsson A Series Video Walkman, which one are you going to buy?