As I mentioned in one of our last posts where I listed many sources that covered the whole Apple iPad event via live blogging, "If Apple does not live stream this event, you will definitely find the recording of the launch event on the above page uploaded after few hours of the iPad 2 event.", Apple Team have uploaded the whole video stream of the iPad launch event at the Apple Events portal.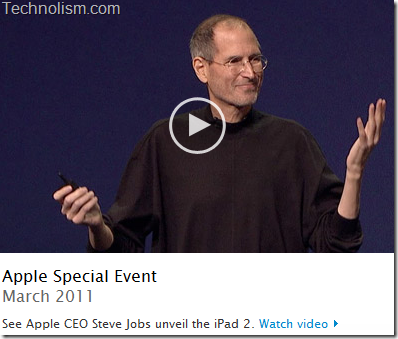 Check out the link below to watch the full Apple March 02 event for the iPad launch. Many of you must have already read so much about the next generation of the iPad, the iPad 2 but watching Steve Jobs telling you the facts and figures on the stage and the audience applauding on each announcement he is making, is absolutely impeccable.
Direct your browsers to the below link to watch the full 72 minutes video now.
Video Stream for Apple March 02 iPad 2 Launch event