We recently shared with you the infographic "Likability of Angry Birds" which shows the various characters of the very popular game "Angry Birds".
With more than 50 million downloads across all platforms, now Angry Birds is moving to the next big level, Facebook. Rovio CEO, Mikael Hed has announced that the immensely popular game Angry Birds is coming to Facebook by the next month with "completely new aspects to it that just haven't been experienced in any other platform."
Also Read: How to play Angry Birds in Google Chrome or any other Browser?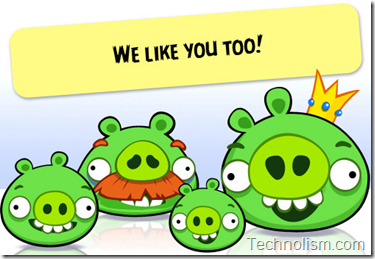 The official Angry Birds page on Facebook promises to update you on the release if you click "like." Already 1,290,027 people have done that.
For those of you who do not know what Angry Birds is, it is a puzzle game developed by Finland-based company Rovio, in which the player uses a slingshot to launch these Angry birds at pigs held on or within various structures, with the intent of destroying all the pigs on the playfield.
According to All Facebook, Hed has mentioned that there are new aspects to the game in which "the pigs will have a more prominent role." and also used the word "collaborative" which could have something to do with the translation from Finnish.
Check Out: Which is your Favourite Angry Bird?
It will be worth watching, the envious reactions of the other Game Developers for such a great rise of Angry Birds. First an iPhone app, which then was ported to Android, and Nokia; now it is hitting Facebook. With Facebook's 600 million active users, it is going to be a big treat for Angry Birds. 🙂
You can Like the Angry Birds Facebook page or Subscribe to our Free Newsletter to stay updated when this addictive game finally makes it to Facebook.