Throughout history, textbooks have been a burden to students. They are heavy, expensive and quickly become out-of-date. Also, new editions of textbooks make it difficuly to sell the older versions. While textbooks are still the top preference for many, eBooks are giving them a run for their money.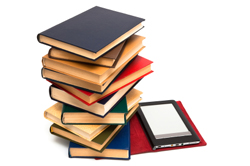 However, technology is playing a key role in how textbooks and education are changing as a whole. Computers are now a necessity rather than a luxury in today's digital classroom. On campus and online schools around the world are now encouraging eBooks over printed books owing to the benefits that they come with. They are easy to share with students, can be loaded on any portable device and carried along, are inexpensive and also not heavy like textbooks.
Talking about the environmental benefits, textbooks are costly to the environment in terms of printed material while eBooks are green with no wastage of useful resources like trees and other infrastructural costs involved.
Have a look below at some interesting Textbook and eBook facts and do let us know what would you prefer for yourself – Printed Books or eBooks? [Click to enlarge image]

Via: Online Universities