Now days, people are so busy with their work that they do not have much time to entertain themselves in real world. So, they find a way of entertainment in the form of social networking sites. They first open three four accounts in different social networking sites. But when they find it difficult to maintain, they look forward to closing one or two accounts. Among their closing list, one of most common social networking sites is Google plus.
Other than bloggers (check out how bloggers and businesses can create a brand page on Google+), most of the people do not find anything interesting in it. Over the months, they do not even sign up to it. But they do not want to close the account thinking that it might affect in other services provided by Google. And one the greatest concern of them is about Gmail services. If you are also in the list of those people, this article is for you!
Here you will learn some simple steps about how to close your Google plus account without causing any damage to the other services provided by Google.
Simple Steps to Delete your Google Plus Account
Step 1: First of all, you need to login into your Google Plus account. Just click on the sign in button for login.
Step 2: After that, look at the upper right corner of your profile page in the Google plus. A drop down arrow will be found there which is located just adjacent to your profile picture. For going to the next step, click on it.
Step 3: A list of options will be available to you. From them you just select the Account option. Click on it.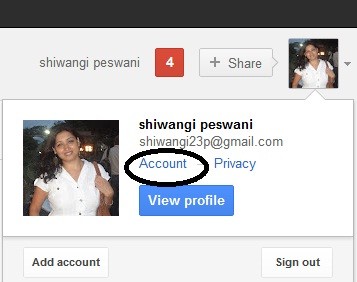 Step 4: As soon as you select the account option, you will be directed to a new page. This page includes all the details of settings.
Step 5: As the page includes all the settings; you need to scroll it down at the end where you will find the option of delete your profile along with associated features of Google plus. Click on that option for heading one step ahead to delete your profile.

Step 6: This is the most important step where you need to be careful before selecting a particular option. You will be given two choices.
One is deleting only the Google plus account and the other is deleting the entire Google profile.
Do not select the second one unless you want to stay away from all the services of Google including Google talk, Gmail and Google reader. One wrong click can bring a lot of trouble for you. So, be careful before selecting!

Step 7: So, as I already mentioned in the above step, choose only the first option that is 'Delete Google+ content' as you do not want withdraw yourself from taking benefits of other services.
Step 8: In this last step, a box will appear where you will get a message that you cannot alter after once you delete your profile and you cannot restore the deleted data. After reading that message, just click on the 'remove selected services' button.
So, following these simple steps, you can easily delete your Google plus account.
I hope this quick tutorial helped you in easily getting rid of your Google+ account. Stay tuned for more such tips and tricks here on Technolism.