Nowadays, everybody is starting his/her own blog, thanks to the success stories shared by some renowned bloggers. Starting a blog nowadays is really simple as all you need is a domain name and a hosting provider. And, as these are inexpensive too, there is a huge rise in the number of blogs in the last few years.
Starting your own blog is the very first step. Making it a success among masses on the internet, is a different story altogether.
Bloggers and webmasters write great content and mainly focus on getting the organic traffic from the search engine giant Google. The SEO love from some other good search engines like Yahoo, Bing, Ask is not to be ignored. For getting the organic traffic from these sites, it is really important to Submit your Blog Sitemap to these search engines.
Check this article where the author lists the "SEO Benefits of Using a Sitemap"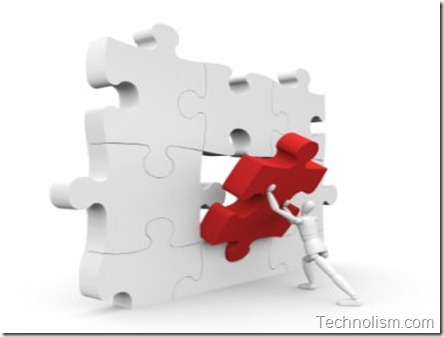 In this article, I am going to write about how to Submit your Blog Sitemap to Yahoo. So let's get started!
Step 1.
Point your browser to https://siteexplorer.search.yahoo.com/ and and log in with your Yahoo username and password (same as your Yahoo email, if you have one).
Step 2.
Under the section "My Sites," enter the URL of the Blog/website that you want to get indexed in Yahoo. Click on "Add My Site" Button.
You are taken to the Authentication page where you need to verify the ownership of your site/blog.

Step 3.
You need to verify your site/blog ownership either by uploading a verification file to the site or by adding a Meta tag to the home page of your blog/site.
I prefer uploading a verification file by using any FTP client rather than adding the META tag to the blog which means, even if you make any changes to your blog, there will be no change to the uploaded file and your blog continues to be indexed in the Search engine.
For this, click on the option "By uploading a verification file to my site" You will be shown the below screen.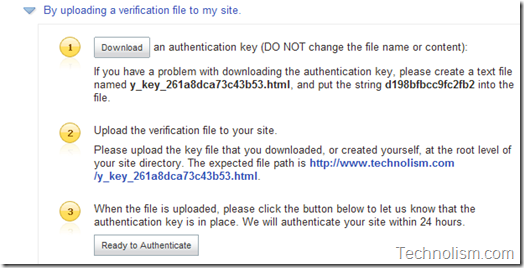 Step 4.
Download the file by clicking on the Download button on this screen and upload it to the root folder of your blog or website like in my case it is https://www.technolism.com
I use Filezilla FTP client to access the files on my blog.
Step 5.
Once you upload the verification file to the root folder of your blog, Click on "Ready to Authenticate"
This will take you to the 'My Sites' section with the status for your blog turned to Green

Step 6.
Now go to the Feeds section and enter the address of your Blog feed. Click on the "Add Feed" button. Generally, for a wordpress blog, the address is http://www.example.com/feed.

Your site feed gets added to Yahoo. In the similar way, you can add the Sitemap of your site to Yahoo by entering the sitemap address and clicking on Add Feed button.

Both the entries for your site feed and your blog sitemap will be added with the Status as New.
After some time, when Yahoo search crawlbots are able to access your blog, the status will change to Processed like you can see below like I see for my other blog Equitipz.com for which I added the Sitemap to Yahoo an year back.
Adding Sitemaps for your Blog / Site to major search engines is very important for the overall success of your blog as you are assuring the maximum visibility of your site in these search engines.
Next, I will cover how to add your Blog Sitemap to Google and Bing too. So, stay tuned.
Do let us know what are your views on how important is it for a blog to be indexed in major search engines?