As I mentioned in one of my Thesis Tutorials, I purchased Thesis WordPress Theme quite long back, which I also applied for some of other blogs powered by the Technolism network (check here and here).
At last, I have installed it here, on Technolism as well. Thesis is not only a wordpress theme but a framework and here at Technolism I never endorse anything before I try it myself. Thesis is a great wordpress theme and I have applied to almost all my blogs as it is already SEO friendly and is very easy to customize. 🙂
I have put down as small tutorial if you are going to install it for your blog. It is a very easy process to install Thesis Theme.
Below is a quick step-by-step tutorial on how to install Thesis theme to your new blog:
#1. Download the latest Thesis Theme from DIYThemes.
#2. Go to your WordPress Blog Dashboard and navigate to the path Dashboard > Appearance > Themes and click on Install Themes tab. In this tab, click on Upload option.
#3. Click on Choose File and select the latest Thesis theme file which you downloaded above. Click on Install Now.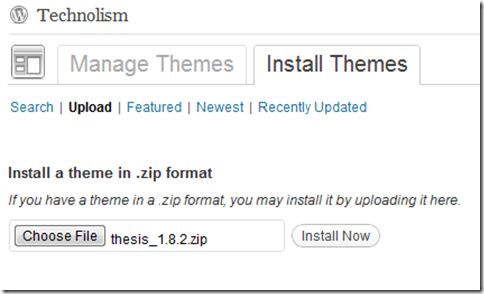 #4. Clicking on Install Now will install the Thesis theme onto your wordpress blog which would not take more than 2 minutes. All you have to now, is Activate the Theme and have a look at your Thesis powered blog.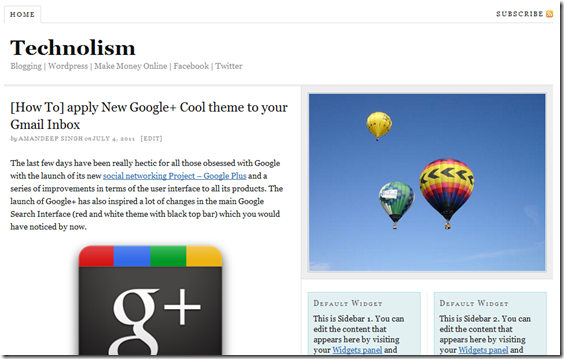 #5. There is no Step 5 as such ;). Now, put your creative hats on and start customizing your new rocking theme to make it look the way you like it. Remember, Thesis has a great potential in that case and is very easy to customize.
Now, having installed the Thesis theme on Technolism, I will start customizing it to give it more awesome and attractive look. I will also be sharing a lot of Thesis Customization Tutorials here now. So, stay tuned for quick and useful tutorials coming your way. Bye for now, I am eager to start customizing Technolism. Your feedback and suggestions are always welcome.
DIYThemes released the latest version of Thesis 1.8.2 recently and there are talks of its price getting hiked with the release of Thesis 2.0. So, if you have not purchased Thesis till now, below is the link to Grab Your Copy Now!