June 2011 was a great month for Technolism. We celebrated our first birthday in June when we organised a premium wordpress theme giveaway. Also, Google gifted us with PR 2 in its latest June 2011 PageRank update. 🙂
June was a great month for Technolism in terms of traffic as well; in fact it was the best month till now. I started sharing the monthly traffic report to keep a track of our progress in terms of traffic over the months. Also, it helps as an inspiration for new bloggers, like it did for me when I used to read similar reports for some leading blogs when I started Technolism back in June 2010.
Online traffic has increased manifolds for Technolism over the last couple of months. I did not post the traffic report for May 2011 – no specific reason (lazy me!). In May 2011, Technolism got around 17k visits with 30k pageviews. Lets' have a look at the stats for June 2011 below.
Traffic Stats Overview:

Visits: 19,241
Page Views: 28,894
Traffic Sources: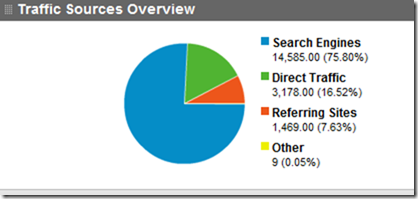 Organic traffic is as usual heading the race for traffic sources. The search engine traffic proportion has gone up to ~76% against 70% for earlier months which is good news for any blog. 😉
Traffic has been consistent from Search Engines with majority coming from Google web search. Bounce Rate is still quite high which I need to work on. As I told in one of my previous posts, I purchased Thesis quite long back, which I also applied for some of other blogs powered by the Technolism network (check here and here). I will be loading it soon on Technolism and see what magic it does for us.
Alexa Rank:
Current Alexa Rank: 108,155
I would be posting the monthly updates on Alexa rank to keep a track of month-on-month progress. I soon expect to see the Alexa rank for Technolism below the 100K mark. 🙂
So, these are the monthly traffic stats for Technolism for the month of June 2011. How has your traffic for the month been? Do share with us in the comments section below.