We have reached the 9th day of the Apple "12 days of Christmas" Giveaway series. Today, on the ninth day, Apple is offering "Radioactive/Arizona" free song and Video bundle.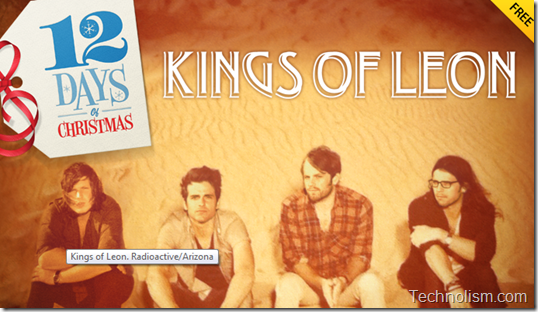 You may direct your browsers to the below link to avail this free giveaway now:
iTunes link to "Radioactive/Arizona" Kings of Leon Song and Video bundle
*Please note that this Song and Video bundle is available to download for 24 hours only on 03rd January, 2011.
Till now, Apple has offered a lot of stuff in the last 8 days which includes 3 Music downloads, 1 TV Episode, 2 Apps, 1 Movie and 1 Book, all free of cost.
To stay updated on your iPhone, when a free download becomes available, you need to download the "12 days of Christmas Giveaway" free app. If you have not downloaded it, you can download it now from iTunes Download link [UK Store]
There is a lot of exciting stuff coming in the next 3 days which includes the free downloads for the below listed things.
04 January 2011 – Dr Who Film
05 January 2011 – Mirrors Edge App
06 January 2011 – David Guetta MP3
So, stay tuned or subscribe to our newsletter now to stay updated.