As I mentioned in my last post, talking about my goals as a blogger, one of them was to start sharing the monthly traffic report for Technolism. So, here we go.
Technolism has completed 6 months of operation (started in June 2010) and December was a good month in terms of Online traffic (the best till now I must say ;))
This is the first traffic report for Technolism and going forward this would also work as a parameter for us to measure the growth rate over the past month, if we are moving forward or instead going in the other direction. 😛
Here is our monthly traffic report for month of December 2010:
Traffic Stats Overview:

Visits: 9,067
Page Views: 12,261
The number of visits has increased considerably over the past month (6k+ for November 2010) but the Bounce Rate is still quite high, which I am working on now and it also involved the upgrade to the Thesis framework soon enough.
The average time spent on the site per user is still quite low (less than a minute). The number of pages per visit has been fine though at 1.35 pages per visit.
Traffic Sources:
One thing which makes me somewhat happy is that our maximum traffic is coming from organic sources. As you can see, around 74 % of the traffic is coming from Search Engines, out of which around 72 % is from Google alone which is a good news for any blog 🙂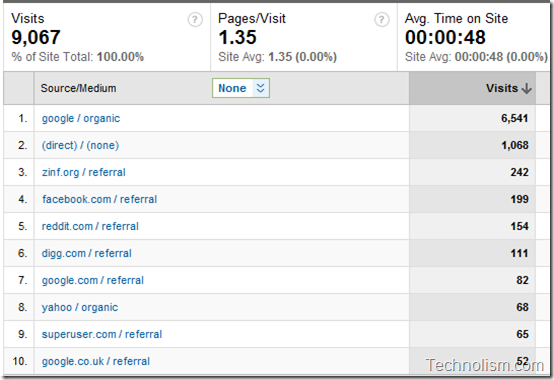 We also managed to get some amounts of Traffic from social networking sites Facebook, Reddit and Digg but Twitter is missing in the list for this month. I am not using twitter very efficiently for now which I need to work on.
So, this is our Traffic report for December 2010. This will at least keep me committed towards posting frequently on the blog as I won't feel nice at all to post about a drop in the traffic for January 2011 😛
How have your Traffic Stats been for the month of December 2010? Also, suggestions are welcome for me to improve traffic for Technolism.