It seems to be a coincidence but sometimes you need something and it lands right in front of you. Something similar happened to me and being an iPhone user I feel great about it. What did you think, I won a lottery or something? 😉 This is something to do with an iPhone app and I won't divert from the topic 😀
Each morning, every stock investor wakes up with the excitement to know what his Stock portfolio is up to today. I fall in the same category and while leaving for office, I have built a habit of logging into my Moneycontrol Portfolio, using the conventional method of opening the site in Safari browser for iPhone, and this happened each day. I used to think, India's leading financial portal and with the increasing Smart Phone user base in India, they do not even has an iPhone app. Next day, when I logged into the Moneycontrol website, much to my surprise, it showed a pop-up saying "Download Moneycontrol iPhone app now" 😛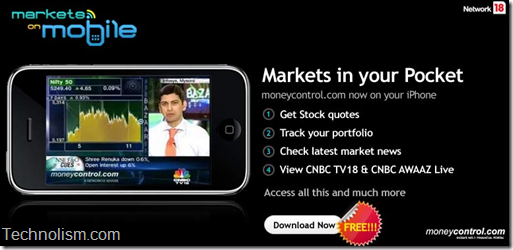 Moneycontrol.com, India's leading financial portal has launched its official app for iOS devices like iPhone, iPod Touch and iPad. I have downloaded the app and I must say, it is a great application and much easy to access as compared to the way I had to do it earlier 😉
The free iPhone application is extremely useful for traders, stockists, and brokers who deal in finance and markets.
You can read more about this app on Moneycontrol.com.
Some of the main features of the Moneycontrol Markets on Mobile iPhone app are listed below:
Get live stock quotes : Get real time stock quotes, Indian and Global Market Indices.
Track your portfolio: Now get Portfolio Manager and track all your investments, assets and borrowings while on the go.
News Center: Stay updated with the latest from News Center.
Watch LIVE TV: Watch CNBC-TV18 & CNBC AWAAZ live.
Below are some of the screenshots from the app:
Download now from the App Store: MoneyControl 'Markets on Mobile' iPhone app
You can also get this app by sending an SMS 'MOM' to 51818 from your Mobile Phone.
So, what are you waiting for? Go ahead, download the app on your Apple device and share your views with our readers.