As we all know, the technology was at its best in the year 2011 and there were some really awesome releases of great tablets and smart phones. All the mobile manufacturers like Samsung, Nokia, Apple, HTC launched the new gadgets and gave a tough competition to each other. Nokia tasted huge success last year with the launch of new smartphones. Nokia started the year 2011 with new gadget release and ended the year with the launch of its brand new smart phone Nokia Lumia 800.
The company's target is to achieve 50 percent more than what it achieved in 2011. To enjoy the taste of success in the new year and to put a step towards its target, Nokia announced about their upcoming gadget Nokia Lumia 900. This gadget is not yet announced and has already started getting hits from across the world.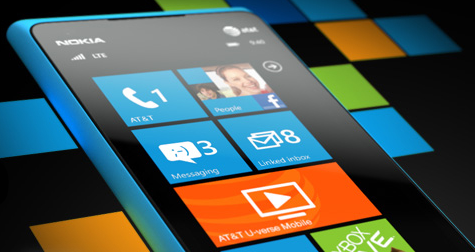 All the websites, blogs are publishing about the Lumia 900. All this shows the popularity on Nokia Gadgets, especially Nokia Lumia 900. After looking on the huge interest of the customers from all over the world, Nokia is hoping to sell at least 30 million pieces of Nokia Lumia 900. According to the technology experts, Nokia will achieve that target easily.
Firstly, the up-coming Nokia Lumia 900 was believed to come up with 12MP camera. Rumors were there, all over the web about it. Some people even published wrong information about the specifications of the gadget as well. They claimed that 12MP camera quality is officially announced from the Nokia itself. But now Nokia has refused all those wrong statements and rumors and said they did not plan for the 12MP camera in the Lumia 900. Nokia's announcement further added that the Nokia Lumia 900 will have 8 MP camera. Along with good camera quality, Nokia Lumia 900 is coming with unbelievable features. Actually, Nokia Lumia 900 is bigger, faster and smarter. Lets have a look at the features of this upcoming Nokia's launch.
Key Features:
As already said, Lumia 900 is bigger, faster and smarter. You do not need to believe anyone else; look at the features below for yourself and you will come to know why we are addressing Lumia 900 with great respective words.
Nokia Lumia 900 is Bigger
Dimensions:Â 127.8 x 68.5 x 11.5 mm. This is a smartphone with big size and but thinner in width. The dimensions of this gadget make it stand out of the crowd, as most of the smart phones are bulky in size and are difficult to carry around. But it's not in case of Lumia 900. The weight of the smart phone is 160 gm, which will allow you to carry it with you easily while on the go.
Display:Â The device has 4.3 inches capacitive touchscreen with the support of 16M colors. For the protection of screen Gorilla Glass protection is there. The touchscreen is quick in its response. If you are internet addict like me, then you must be familiar with the fact that, bigger the size of the smart phone, better the internet experience is. From the size and display point of view, it is a very recommended gadget for every internet addict.
Nokia Lumia 900 is Faster
Processor: It will have  1.4 GHz Scorpion processor. Qualcomm APQ8055 Snapdragon will be used as chipset. Because of good processor and chipset, you will get an outstanding speed, which makes it stand in the list of those few smartphones which have features with speed.
Memory:Â The internal memory support of Lumia 900 is 16 GB. But according to rumors, there will be SD card slot in the Lumia 900. As it is not confirmed yet, so anything can happen in the near future. The internal memory support of 16GB is also good storage capacity itself. The Random Access Memory in this device will also be good, which is believed to be 512MB.
Nokia Lumia 900 is Smarter
Network:  Along with the support of 2G and 3G networks, it will support 4G as well. The 4G network capability of the smart phone is LTE 700 MHz Class 17 / 1700 / 2100. With its 4G support feature Nokia is targeting the US audience.
Operating System:Â Nokia Lumia 900 is Windows-based device. Microsoft Windows Phone 7.5 Mango operating system will be there in the Lumia 900. With this operating system Nokia is all set to give competition to search Giant Google's Android.
Sound: The sound quality will be HD. Nokia has been working hard on the sound quality for quite some time now and with the HD sound quality of Lumia 900, Nokia is trying to give competition to Apple's iTunes.
Alert Types: Vibration; MP3, WAV ringtone
Will include loudspeaker and 3.5 audio jack support.
Internet Facilities: It has got the rich internet facilities which make it a really smart and extra ordinary gadget. All the features are useless if a smart phone does not have good internet facilities, because nowadays it is taken seriously by customers before he/she spends hard-earned money on buying such gadgets. It will support GPRS and EDGE of class 33. Because of 4G network support, the amazing internet speed is assured. Also with 4.3 inches quick responding touch screen, it will give you desktop like internet surfing experience.
Camera: Nokia Lumia 900 will be dual camera device. The primary camera will be of 8MP, which was firstly expected 12MP. The camera quality will be awesome of this smart phone, as it is always there Nokia's gadgets. The camera will also support HD video recording and other features like Geo-Tagging. The resolution of the primary camera will be  3264×2448. The secondary camera will be of 1.3 MP which is  of decent quality.
Other Feature That Make  It Smarter:
In-built Email, SMS, Push Email and IM services will be there. It will also have live video streaming and YouTube support as well. To attract more and more young audience, who is always busy in social networking sites, the Nokia Lumia 900 will have in-built application for direct social networking sites access.
Battery:Â Not only the features, but the battery also is another part of the smart phone, which makes it even smarter. The battery stats are:
Stand-By: Up to 300 h
Talk Time: Up to 7 h
Music Play: Up to 60 h
Price: 620$ (approx.)
So, after looking on the features which this smart phone will have, the tag of Nokia Lumia 900 – Bigger, Faster, Smarter seems perfect from my point of view. What do you think about it?
Drop your comments below and let the world know, about your views and expectations from upcoming Nokia Lumia 900.
We are officially very excited for its launch. Are you also with us?
This is a guest post by Rajkumar Jonnala.