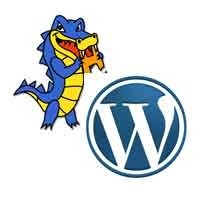 As I updated you in my last post, Technolism has moved from DreamHost to HostGator Shared Hosting, its new home. HostGator team helped us with this migration and now whatever new blogs which are joining under the Technolism network, are being hosted on HostGator.
While doing so for my new wordpress tutorials and wordpress discount offers blog, I did a quick tutorial on how to install WordPress on HostGator. So, let's get started…
There are basically 3 options using which you can install WordPress on newly hosted domain on Hostgator which are listed below:
Manual
Quick Install
Fantastico
Fantastico is the simplest of the 3 and that is the method I am going to use in this tutorial and if all goes well, your brand new wordpress site will be up and running in no time.
Steps to Install WordPress for Your Blog on HostGator
Step 1: Go to your Hostgator cPanel and look out for the "Software/Services" section. Click on "Fantastico De Luxe"

Step 2: On the next page, click on WordPress from the list of CMS / Softwares displayed in the left pane of the Fantastico Control Panel.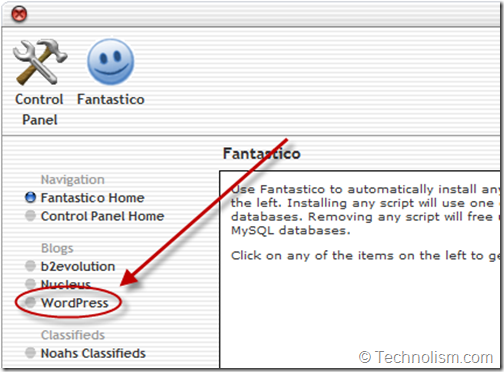 Step 3: On the next page, click on New Installation.
Step 4: Enter the below details on the next page and click on "Install WordPress" button:
Select the blog you want to install wordpress on from "Install on domain" drop down menu.
Enter the details in "Admin access data" section.
Enter the details on "Base configuration" section.
Leave 'Install in directory' field blank.
Step 5: Clicking on "Install wordpress" button on the above screen, you will be taken to the below screen where you need to click on "Finish installation" button.

Step 6: If everything goes well, you will be shown the below screen and that's it, You are done!
You can enter your email address and click on "Send E-mail" to get an email about the installation details sent to yourself.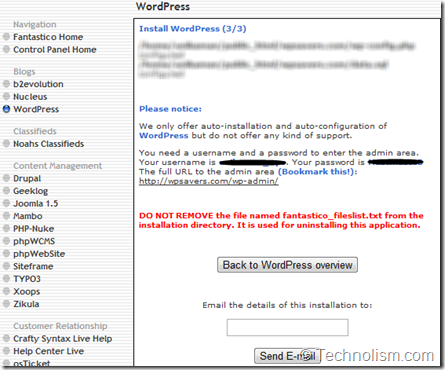 Congratulations! You have successfully installed WordPress on your brand new blog hosted on HostGator.
I hope this quick wordpress tutorial helped you in installing wordpress on HostGator. If you face any issues while installing wordpress on your new blog, feel free to get in touch with us via the comments below or contact form. Stay tuned for more helpful posts about wordpress here or move on to our wordpress tips and tricks blog for more tutorials.