Google keeps on innovating with its new animated doodles. On 9th June, 2011 Google celebrated Les Paul's birthday in the form of an awesome interactive Guitar Doodle which topped the trends soon after its launch.
It became popular within hours of getting launched and the talented Googlers came into action and started playing their favourite numbers on the Google Guitar. Some even ended up composing some great tunes. I have put together some nice videos uploaded by Google Guitar Doodle fans. Check out the list below.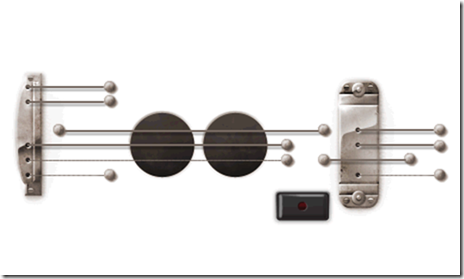 Mozart 25th Symphony – Google Guitar Doodles (DUET!)
This is the most amazing one that I found which had been done by Slain and Beyond. This is a duet which the duo has played on two computers and the result is amazing. You are gonna love it.
Indian National Anthem
This is a very sincere effort by Manu (YouTube Profile: sudhanshu266) who has tried his hands on playing Indian National Anthem and he has done justice to our great anthem. Check it out for yourself in the video below. This video has pulled in 83k+ views till now.
Amazing Google Guitar melody
This is an original melody composed by bassistuk who claims it to be a prospective Google Theme tume. It has pulled in more than 300k views till now.
Amazing Google Guitar melody Part 2
This is Part 2 to the above melody. This one has pulled in around 150k views till now. You can also check out the Part 3 to this Google Guitar Doodle melody by bassistuk here.
Michael Jackson's Billie Jean
Bassistuk seems to be rocking all over the place with awesome sound tracks played using the Google Guitar Doodle and in this video, you can see 3 different sound tracks played using the same Google Doodle which come together to form the Bass, Rhythm and the Melody. This video has pulled in more than 450k views from all over the world.
Google Guitar EXTREME – Huge song collection
This is a nice collection of famous songs played on the Google Guitar Doodle. Checkout some well known songs like One by Metallica, Star Wars theme, Harry Potter Theme and the Coldplay – Clocks played in this video.
I hope you have liked these videos. If you missed this great musical doodle, you can still get your hands onto this awesome piece of art as Google Guitar Doodle has got a permanent home here.
So, which song are you going to play on the Google Guitar Doodle. Do upload your video on YouTube and share with us. If we like it, we would add it to this list.