Last week Technolism celebrated its first anniversary. On this occasion, we had organised a WordPress Premium Theme giveaway worth $40 for Mashlife Theme developed by Ajay Kumar Meher.
The giveaway has been successful with 29 entries in total, for our first giveaway. In total 29 people participated in the giveaway contest.
Premium WordPress Theme Winner
As I mentioned in the giveaway post, the participants had an opportunity to increase their chances of winning by sharing the giveaway information on Twitter and Facebook, where in for such participants, I had included their name twice in the randomiser list.
For the 29 participants, we had 52 entries in total. We have used Random.org List Randomiser to announce the Lucky winner. See the Results Below:
The winner is Anwar. A big Congratulations to @Anwar115 for winning the Mashlife Premium theme. You will be contacted shortly by the Mashlife Sales Team.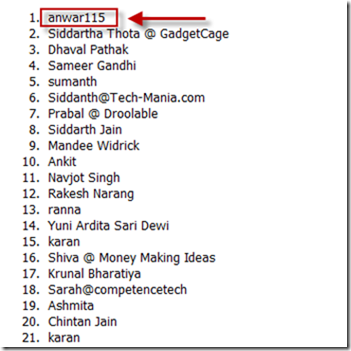 Thanks to all the other participants who took out time to share the contest information on their Twitter and Facebook profiles. Many thanks to the ones who helped in spreading the word voluntarily about the contest. Your sincere attempts have made this giveaway a success and encouraged us to come up with more giveaways in the coming days. Stay Tuned!!
This is not the end. We are in the celebration mood and there are more giveaways lined up. So, if you have not won in this contest, don't worry and bear with us till we announce the next contest.
To stay updated about the Giveaway announcements, you can subscribe to our newsletter or follow us on our Facebook Page. We will take care of the rest.