It is the last day of the Year and we are half way through the "Apple 12 days of Christmas" holidays giveaway, in which you get one free download everyday from iTunes, for 12 days which started on 26 Dec, 2010 and goes on till 06 January. Read this if you have been sleeping in a bunker till now and were unaware of this offer. 😛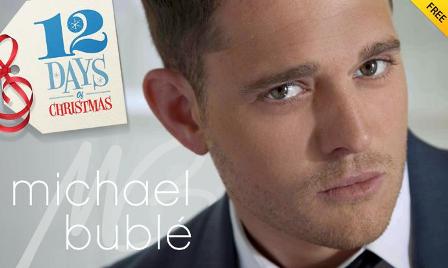 On the Day 6 of this iTunes giveaway, Apple is giving "A Holiday Gift for You EP" from the Grammy Award winner Michael Bublé featuring the below 4 tracks from the swing/jazz singer:
Feeling Good (Live from Madison Square Garden)
Everything (Live from Madison Square Garden)
Mack the Knife
Orange Colored Sky
iTunes link for Michael Bubl̩ РA Holiday Gift for You EP
As we have been telling you in our earlier updates also about this offer, to get notified when a free download becomes available, you need to download the "12 days of Christmas Giveaway" free app. If you have not downloaded it, you can download it now from iTunes Download link [UK Store]
So far, in the last 5 days, Apple has offered 3 Music downloads, 1 TV Episode, 1 App and a Book, all free of cost.
Have you downloaded these free giveaways? What are your thoughts so far on the free gifts?