Technolism wishes you and your family a very Happy New Year 2011.
Time flies by so fast and for me, it is very apt to say that for 2010. A lot of things happened personally and professionally for me this year, and it seems like just yesterday, when the same evening this time in 2009, I was riding a bike to my friend's place in Pune.
Phew! In this celebration mood, I do not want to get sentimental and want to write a quick post to wish the readers of Technolism, a very Happy and a prosperous New Year 2011. In addition, I would like to throw some light on what I achieved in 2010 as a blogger.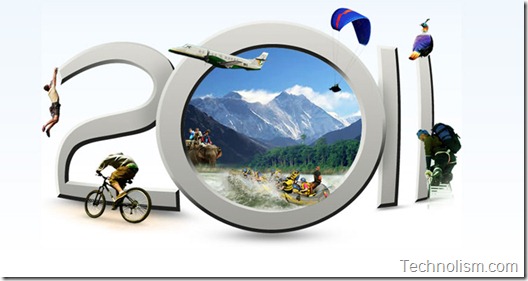 2010 – The Year that was!
In some hours, we will bid adieu to 2010 and welcome 2011 with great excitement. 2010, many new developments happened which gave way to new things, new opportunities and new dreams. I won't talk about any personal things here, though 😉
I am currently in my full time 9-6 job. I moved to the United Kingdom in March 2010 on a company assignment from my base location Pune, India. I won't go into the details of "How Technolism was started" and what were the inspirations and motivations I had, to start a Tech Related blog (I would prefer to do it as a separate post to encourage the newbie bloggers)
Started in June 2010, Technolism is doing quite well. Till now there are 80 published posts (quite less though!) and around 300 comments (this is also not very impressive).
The traffic on these 80 posts has been impressive and the latest stats for December 2010 are around 9k+ visits (I will be sharing these in a separate post). In total, there have been 23.5k+ Visits and 34k+ PageViews on Technolism and the traffic has been increasing exponentially since the last 3-4 months. The good news for me as a blogger is that most of the traffic has been organic, with around 65% from Google.
Some resolutions for the New Year 2011
Like others, I also have some resolutions and goals for the New Year. I won't be posting all of them here but only the ones that I have as a blogger 🙂
Below are some of the goals and resolutions I have made as a blogger:
Increase the frequency of posts to at least Everyday
Make Technolism a Do Follow blog and also make it CommentLuv enabled (to encourage comments)
Publish the Monthly Traffic Report for each month
Upgrade Technolism to a Revenue sharing Model
Upgrade the Look and Feel for a better User Interaction and features (I have already purchased the best Premium theme in town, Thesis for this.)
Add more blogs into the Technolism Blog Network in different niches
Currently we have 3 blogs in our network, Technolism, Equitipz and MoviesTemple.
I look forward to be motivated enough to write more tutorial, provide more tips and tricks and keep adding value to the community.
So, what are your resolutions and goals for the New Year?
Once again, a very Happy New Year to you and your family. Enjoy!!
Keep reading, keep commenting! 🙂
On this New Year's Eve, I am going to attend the celebrations at London Eye, Central London. What are your plans; how are you planning to celebrate the last day of 2010?