Second day of the New Year 2011 and it is the 8th day of the Apple 12 days of Christmas Giveaway.
Today on the 8th day of the giveaway series, Apple is offering the download for a free game "Broken Sword: Shadow of the Templars Director's Cut".
As given on Wikipedia,
Broken Sword is an adventure game series created by game designer Charles Cecil of Revolution Software. The game series revolves around the adventures of Idaho-born George Stobbart and the French Nico Collard in several fictitious stories ba sed on history and mythology.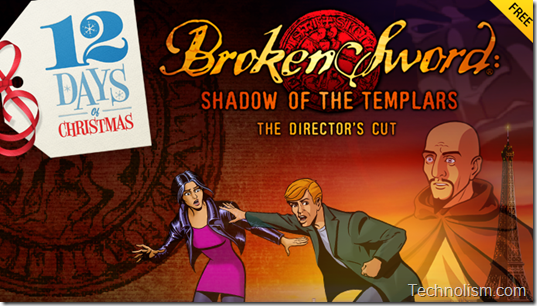 The Director's Cut is a remake of the original Broken Sword, and was released on the Nintendo DS and Wii in March 2009. The game includes extra story elements and settings dealing with Nico and her investigation of a murder and the truth about her father.
iTunes Download link for Broken Sword – iPhone/iPod Download
iTunes Download link for Broken Sword – iPad Download
*Note that the free game is available to download for 24 hours only on the 02nd January, 2011.
To get updated when a free download becomes available, you need to download the "12 days of Christmas Giveaway" free app. If you have not downloaded it, you can download it now from iTunes Download link [UK Store]
If you have not downloaded this app already, direct your browsers to this article to read what you have missed in the last 7 days in this giveaway series. (We could not cover the last (7th day) giveaway in which Apple offered as free Charlie Chaplin Movie "Modern Times (1936) as I was not well to write a post :)")
With only 4 more free download to come, what is on your wishlist which you would like Apple iTunes to offer?