Its been 11 days now when we share with you everyday, the free download offered from Apple in its iTunes "12 days of Christmas" promotion.
Today is the Day 11 of the Giveaway series and Apple has made EA's famous side-scrolling run-a-thon Mirror's Edge Game free to download for both iPhones and iPads. This game, which is free only for today, is otherwise available for £2.99 in the UK iTunes Store.
Made to maximize the visual intensity of the iPhone 4 Retina Display, with Mirror's edge, you would get the cutting edge in adrenaline-driven gameplay. One of the most anticipated action games of the year, the Mirror's Edge experience for iPhone, iPad and iPod touch will leave you breathless!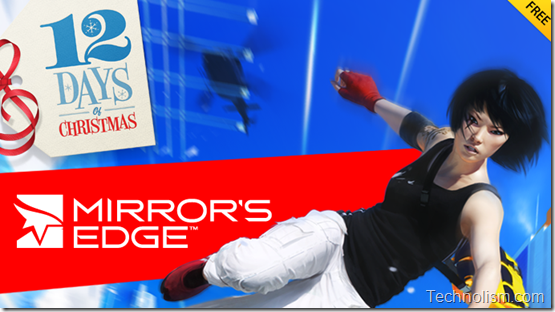 Below is the link to download the addictive action game on you Apple devices:
iTunes link for Mirror's Edge by Electronic Arts Nederland BV
*Please note that this iPhone/iPod touch and iPad Free Game is available to download for 24 hours only on 05th January, 2011.
You can also be updated on your iPhone, when the free download becomes available (its the last one tomorrow ;)), you need to download the "12 days of Christmas Giveaway" free app. If you have not downloaded it, you can download it now from iTunes Download link [UK Store]
As already mentioned, tomorrow is the last day of the Giveaway series, below is the giveaway which is planned for tomorrow:
06 January 2011 – David Guetta MP3
We will post here when it becomes available. Till then, stay tuned or subscribe to our newsletter now to stay updated when the download becomes available.