Today is the last day (Day 12) of the Apple iTunes "12 days of Christmas" Giveaway series. In the last 11 days, Apple has offered some great stuff from the house of iTunes, which included 4 Music downloads, 2 TV Episode, 3 Apps, 1 Movie and 1 Book, all free of cost.
Here is the list of this stuff if you have not been updated about this giveaway.
Today on the final day of this giveaway offer, apple is offering a free Video Bundle download from David Guetta which includes the below 4 Videos to download:
When love takes over (feat. Kelly Rowland)
Sexy Chick (feat. Akon)
Memories (feat. Kid Cudi)
One Love (feat. Estelle)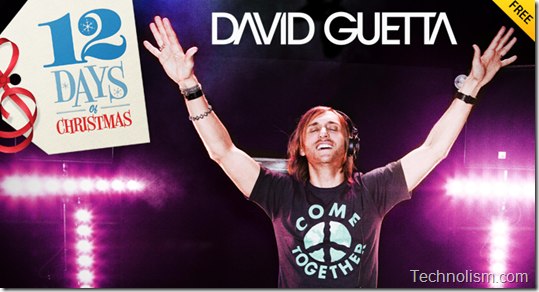 Below is the link to grab these 4 awesome videos from iTunes:
iTunes link for David Guetta Video Bundle
*Please note that this Video bundle is available to download for 24 hours only on 06th January, 2011.
Today, as I mentioned, is the last day of the Apple iTunes 12 days of Christmas. In the last 11 days of the giveaway, we have been updating on all the exciting stuff made available free to download from iTunes.
We will keep bringing you more exciting stuff from all around the internet. So, stay tuned and subscribe to our newsletter now to stay updated about the new stuff coming up on Technolism.