Today is the Day 5 of the Apple 12 days of Christmas giveaway series and Apple is offering a free iBook download for "Life of Pi". Life of Pi is a fantasy adventure novel by Yann Martel published in 2001.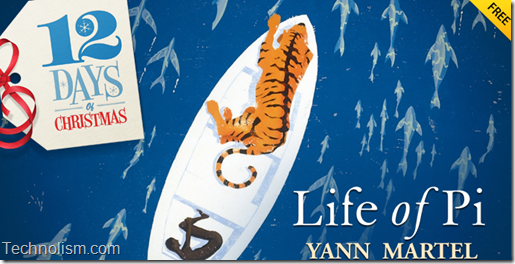 Below is a a small teaser about the book:
One boy, one boat, one tiger. After the tragic sinking of a cargo ship, a solitary lifeboat remains bobbing on the wild, blue Pacific. The only survivors from the wreck are a sixteen year-old boy named Pi, a hyena, a zebra (with a broken leg), a female orang-utan – and a 450-pound Royal Bengal tiger. The scene is set for one of the most extraordinary and best-loved works of fiction in recent years.
Life Of Pi is available for download in iBooks. iBooks is an amazing new way to download and read books on iPhone, iPad, or iPod touch. You can download iBooks from the iTunes Store or App Store.
*This book is available free to download for 24 hours only on 30th December, 2010.
iTunes download link for "Life of Pi"
To get access to the notifications when any download becomes free, you need to download the "12 days of Christmas Giveaway" free app. If you have not downloaded it, you can download it now. iTunes Download link [UK Store]