We have already updated you about the ongoing "12 days of Christmas" giveaway from Apple iTunes in which they are offering one free download which may be a free video, song, game, or an application from the Apple store.
Check here to have a look on the stuff which you have missed in the last 4 days 😛
Today, on the Day 4 of the giveaway series, Apple is offering one of its very addictive games, "Fishing Kings" which promises to be the best fishing game on the iTunes App Store with full 3D graphics and a thrilling, intense and realistic gameplay. It features 33 different species of fish to catch. So, keep your fishing gear ready and use the right tools from your tackle box to catch the species you want.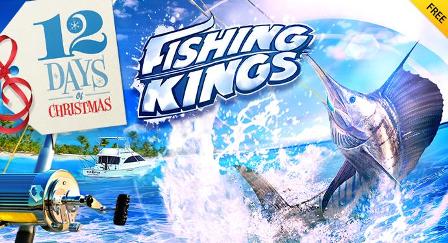 What are you waiting for? Simply direct your browsers to the below link and download this addictive app for free 🙂
iTunes link for Fishing Kings App download – For iPhone / iPod Touch
iTunes link for Fishing Kings App download – For iPad
*Please note that this Game app is free for 24 hours only on 29th December, 2010.
To get access to the notifications when any download becomes free, you need to download the "12 days of Christmas Giveaway" free app. If you have not downloaded it, you can download it now. iTunes Download link [UK Store]