We have already discussed a way to delete the custom fields from all your posts in a single go. This solved the problem of the thumbnails with the custom field label "image" shown in the right side bar of the Thesis theme. Read the post here.
All of you who have recently purchased the great Thesis Theme, the most cumbersome task seems to be adding the thumbnails to the posts on the Homepage in Thesis. But, believe me, it is not so tough. I just did so on my other Personal Finance related blog and now, in this article we are going to discuss how you can accomplish the thumbnail display on your blogs' homepage.
Adding a thumbnail along your posts makes your blog page more attractive and helps in increasing the CTR (Click Through Rate). This is applicable to all the wordpress themes and not only Thesis.
We are going to use the Thumbnail for Excerpts WordPress plugin to auto generate thumbnails for all posts and the same will be displayed along with the post teaser. What this plugin does is, it pulls the very first image from your posts and resizes the image without any extra work. Below are the steps how to auto generate post thumbnails in Thesis Theme.
Step 1: Login to WordPress Dashboard of the Blog on which the thumbnails are to be generated and navigate to Plugins > Add New.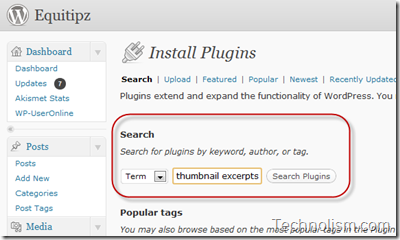 Enter the name of the plugin as "Thumbnail Excerpts". Click on Search Plugins and on the next screen, click on "Install Now" and activate the plugin.
Step 2: Once the plugin is installed and activated, navigate to the Dashboard > Settings > Thumbs Excerpts.
Step 3: As shown in the image below, you can make the changes to configure the basic options for the thumbnail, like size, placement (alignment), Default image, link settings etc.
Step 4: Once you are done with the settings above, click on the "Save changes" button to save all the configuration settings.
That's it. You are done with Thumbnail on your blogs' homepage. If you want to customize the design how the thumbnail image is displayed on the homepage, you can do so by adding an effect in the Custom.css file which we will be discussing in another post.
I hope that this tutorial helped you in easily generating the thumbnails on your thesis theme homepage. Do let me know if you face any issues in doing so.