It is the Day 3 of the Apple iTunes "12 days of Christmas" which we already informed you 2 days back and also we are informing you about the free giveaway available from iTunes each day.
Yesterday Apple offered its users a free Christmas Special TV episode of the great comedy series "Father Ted". Today on Day 3 of the Giveaway, Apple is offering "From Mediterranea with Love EP" which is a Duran Duran 3-track EP.
The EP includes the title track "Mediterranea", produced by Mark Ronson during sessions for the All You Need Is Now album in 2010. The EP also includes two live recordings and artwork based on images created by Clunie Reid with graphic design by Pop magazine.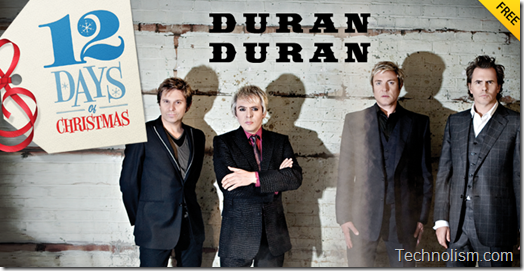 Please note that the free download is available for 24 hours only on the 28 December, 2010.
You need to download the "12 days of Christmas" iPhone app to get access to  this free download. If you do not know what this "12 days of Christmas" giveaway is all about, you may read this article to get the details.
If you live in the Europe, go ahead, install the free application on your iPhone now and start downloading!
iTunes Download link [UK Store]