Last week I informed you about the official Moneycontrol.com App launched for the Apple iPhone. I think, considering the matter of fact that most of the Indian people still prefer (and can afford!) a Nokia Mobile Phone instead of an Apple, Moneycontrol has launched its official application for Nokia Touch Screen phones as well.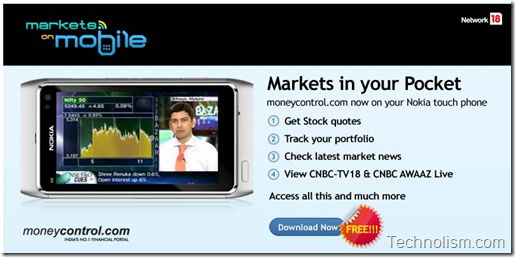 Some of the main features of the Moneycontrol Markets on Mobile iPhone app are listed below:
Get live stock quotes : Get real time stock quotes, Indian and Global Market Indices.
Track your portfolio: Now get Portfolio Manager and track all your investments, assets and borrowings while on the go.
News Center: Stay updated with the latest from News Center.
Watch LIVE TV: Watch CNBC-TV18 & CNBC AWAAZ live.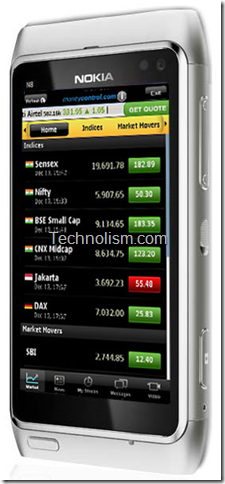 To download this app on your Nokia Touch Screen phone, you can make us of any of the below options:
1. Direct your Nokia Touch Screen phone to the link http://store.ovi.mobi/content/79473 or,
2. Enter your mobile number at this link to get the link on your mobile or,

3. Get this app by sending an SMS 'MOM' to 51818 from your Mobile Phone
If you are an Apple iPhone user, direct your browsers to this link to read about the Moneycontrol iPhone app which we covered last week. You can read more about the Moneycontrol applications for iPhone and Nokia on moneycontrol.com.
I hope you find this application useful. Do share your views about this application with our readers by giving your feedbacks in the comments section below.