The distinctions of mobile Application industry have been changed swiftly over past few years. Android, holding more than 70 % of market share, has changed the mind-set of people towards mobile apps, by making the platform vaster through its enormous applications which has recently crossed 0.6 million figure. But don't you sometimes find it difficult to choose great games from such a large collection?
Here is the solution! We present to you some of the top rated and most downloaded arcade games for Android.
Extreme Road Trip
The application provides an outstanding gaming experience of driving on an iconic track with continuously depleting fuel tank and omission of brakes in vehicle at high speeds through solitary environment. This is a top notch game for race lovers offering more game modes than ever before.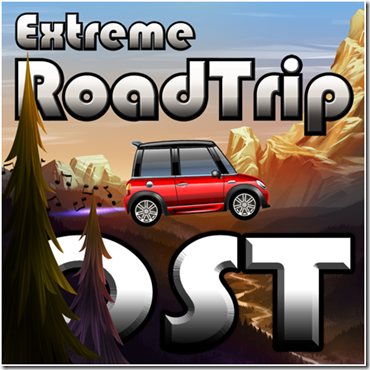 The game begins with encountering tilting of car to keep it jumping and rolling. Execute stunts like wheelies and flip-offs to attain nitro boosts while preventing the vehicle from crashing down.
Your aim is to cover maximum possible distance with a specific amount of fuel reserve. It is an extremely addictive gameplay with awesome music and choice between nine cars having distinctive features. It features unlimited score-chase capability. [Play Store Link]
Angry Birds Space
Developed by Rovio Mobile Ltd., "Angry Birds" has been one of the most popular mobile games ever among gamers and it seems to be boosting that prestige and user satisfaction by the release of its latest SPACE version.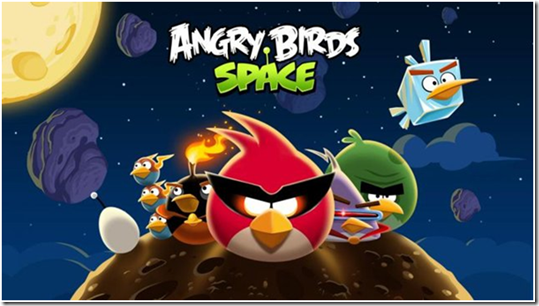 The game focuses on these angry creatures finding a giant claw in wormhole to rescue their eggs while passing from various galaxies in universe. It provides 150 space levels to user with new birds, magnificent powers, fun in zero gravity, difficult-to-reach bonus stages and beautiful pictured backgrounds. [Play Store Link]
Fruit Ninja
Being a product of Halfbrick Studios, after achieving a great recognition in iOS, the application is now also available in android phones with all its fun. It is a provocative action game with lots of juicy and splatted stuff.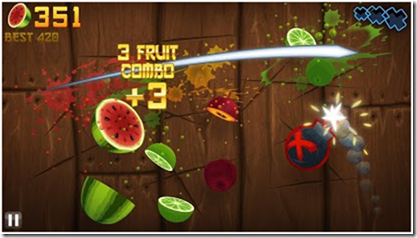 The struggle to prevent fruits from getting sliced by bomb increases the enthusiasm level of gamers. All you have to do in it is, slice the fruits suspended in air in proper alignment by triggering the touchscreen of mobile and moving the blades back and forth at perfect timing.
It offers three single player modes namely Classic, Zen and the Arcade, with approach of going back to reach higher scores. [Play Store Link]
Frontline Commando
We are quite familiar with this Glu Mobile's action oriented android program which has crossed a mark of half million downloads recently. The game deals with the fight of a single squadron against a brutal dictator, using his skills for survival.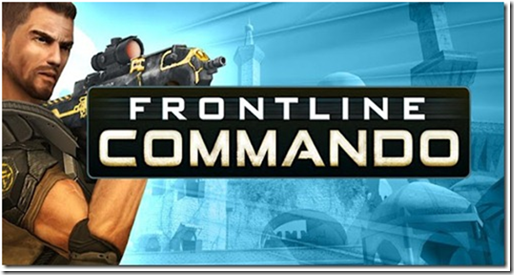 The application puts you as a soldier who has to kill all the enemies alone in battlefield. Its limited time feature makes the play more interesting and challenging. Destructible weapons blowing helicopters, jeeps and enemy areas make it more compelling and attractive. It is endowed with beautiful graphics and a real time war experience. [Play Store Link]
Subway Surfers
It is one of the most delightful games from the crustal of Kilo Games Company. It won't be wrong saying that this app can be described by a similar popular version called "Temple Run" with little more twists, excitement and fun.
The program is based on a never ending run by a skateboard surfer, dodging trains, moving into them, making tracks on their roofs, gathering coins and collecting powers, while facing a chain of interruptions on his path.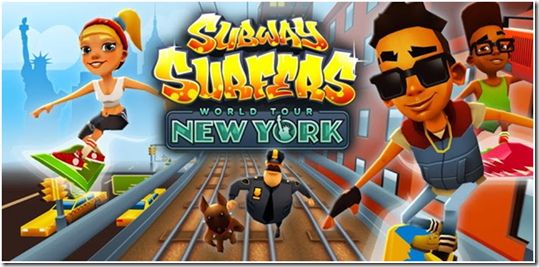 The surfer keeps on moving forward in the game, while user can change its track from one to any of the three by smacking finger on the screen with the amazing controls. It also acquires some additional power boosting features out which one increase the number of coins gathered, another makes the character magnetic and one increases its speed. [Play Store Link]
Also check out – 3 Great Bluetooth Games on Android for Free
I hope you like the above list of action games on Android – do let us know which ones are your favourite from arcade category in the comments section below.
This is a guest post by Gene Sobolev from AndroidPIT where he writes about android entertainment apps and android arcade apps.