Sharing a file or downloading it is not a new concept to anyone now. Millions of people now share and download their data via various software and apps.
Torrents are the most popular files getting downloaded worldwide today. Whether it be a Mac OS user or Windows, downloading the torrents is the preferred choice for everyone.
Now that we are moving ahead in technology, most of the gadget freaks today own an iOS operated device and everyone wants to download the torrents on their high-tech iOS gadget.
Monitoring your PC Torrents on mobile phone is very easy but if you actually want to watch a movie on iPhone or to download torrent file in your iPhone or iPad you may need a software named iTransmission.
Actually, being an iOS device user myself, I was trying to download the torrents on my phone and to be very honest, it was not that easy. Downloading the torrents on computer running on any OS is pretty simple but when it is about downloading the Torrents in iPhone, iPad or any other iOS device, I found that things were not that simple.
I know some of the readers here might be thinking that we can easily download the torrents in the iOS device by using the available software but let me tell you guys, those software end up with a real mess. I can tell you this by my experience.
Well, I am not scaring you. Relax!!
I researched a lot and then finally came across a comparatively simple solution named iTransmission to download torrents in my iPhone so thought of sharing the steps with my readers on Technolism.
Go through the following simple steps and get the torrent files downloaded in your iOS devices.
Step #1:Â Before starting with the download, you first need to jailbreak the iOS device. I guess you know what jailbreaking the iOS device means, if not, let me tell you that Apple devices are bound under many different restrictions from the company which do not allow any sort of third party applications. So, to get the torrents in your iOS device you first need to get out of those restrictions. You can take help from internet to jailbreak your iOS device.
Step #2: After you are done with jailbreaking, you need to download 'iTransmission'
You can get it from the Cydia App store which especially has the apps for jailbroken iOS gadgets. It is free of cost and is compatible with every IOS device. You will notice a small icon on your springboard when your iTransmission is downloaded on your device.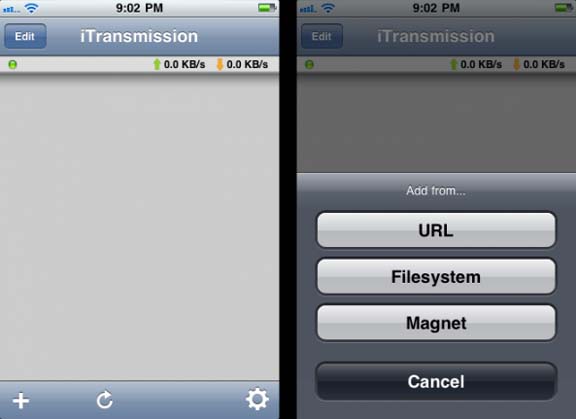 Step #3: Now in the next step, you need to search the torrent file you want to download in your iOS device using the Safari search engine. Suppose you want to download some movie on your iPad or iPhone, open Safari and type the name of the movie, don't forget to write word Torrent after the movie name. Now, check the search results and download the file according to the file size, leeches and seeds – in the similar way you would do on your Mac or PC.
Step #4: Now copy the link of torrent you want to download. Be careful and copy the address correctly.
Step #5: Now when you have the link copied in your iOS clipboard, open the downloaded app iTransmission. Click the small '+' at the bottom left of the app. A menu will pop up on your system screen having a URL tab. Paste the URL copied in the above step and click on OK.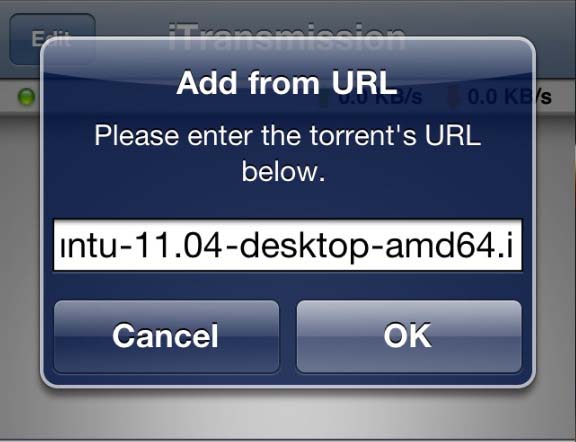 Step #6: You are now done with the steps and all you need to do is to wait for the torrent to download.
Isn't it simple? This complete process takes not more than five minutes and following these six simple steps, you are all set to watch your favourite movie or any other torrent file in your iOS device.
Best part is that iTransmission software is very user friendly and is compatible with every device running on iOS. You can also use this software to download the torrent files on your computer system, but you need to download and install Transmission for that.
Also Read:Â How To Transfer Data From iPhone to Android Phone?
So, following this quick guide, you can now easily download torrent files on your iOS devices and enjoy your favorite movie, music or anything else.
Do let us know, what do you think about this tutorial and also, if you are stuck at any step in the process and I would be more than happy to help you!