If you own a blog or website, the most important thing is to promote your web presence. I, myself use various networking tools like Facebook, Twitter, FriendFeed, Digg to do that. Regardless of how much you use social media to promote your brand or to communicate with anyone, email is arguably the most direct online method of messaging someone about your website.
Now, mailing someone to visit your blog or twitter profile, by providing a link to your blog or Twitter page, won't prove that powerful as compared to a small icon at the end of your signature which is less abrasive and serves the same purpose. Now, there is no rocket science behind having an impressive signature which promotes your brand along with links to your social presence, but, sometimes it can be very time consuming to make one.
There is one such tool which solves the purpose and using it is very easy and you can get the above requirement fulfilled using it: WiseStamp Email Signature.
WiseStamp Email Signature is a signature creator that includes many exciting and improved webmail signature features.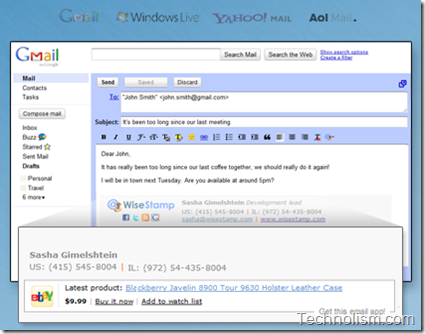 Using it, you can create a custom webmail signature, complete with an image or logo. Link to your blog, website and your choice of over 48 social networks. Your signature shows up in every email you send, automatically. You need to do nothing. 🙂
This add-on is the same concept as the address labels, it's just made for the Web. You build your signature and tack it on all your webmail accounts, like Gmail and Yahoo.
You need to simply install the add-on to your Firefox or Chrome browser to gain the functionality of a rich text editor for composing your email signature. It gives you the option to change font styles and colors, add and resize images, and add a row of icons with links to your social networking services of choice.
You can also pull in items from an blog RSS feed right into your signature, making it a great way to promote your latest blog post, Flickr photos, status updates, random quote, or pretty much anything.
This is a great tool for the bloggers as your signature can serve as another promotion tool. Emails can be a powerful method to unobtrusively promote your web presence. Social media is powerful, but you should aim to brand yourself via email also by using customized email signature.
Check out the video below for a quick walkthrough of what the Wisestamp Email Signature add on can do.
Below is a screenshot of the Signatures I made using this add on in not more than 5 mins.

This add on is currently available for Mozilla Firefox, Google Chrome and Safari Browsers.
Download Link WiseStamp Email Signature
I hope that you like this add on. What do you think about this cool add on. Do share your views with the other readers.