There is already a lot of buzz going on about the latest project from Google which they have named as Google Plus and I do not think that I need to really tell you about it; as you might already know it through your Facebook and Twitter feeds, as that is what everyone is talking about. I recently got my hands on to Google+ and thought of sharing with you, the first impression that I got after using this new Facebook.
What is Google Plus Project?
For those, who have been living in the caves in the past few weeks, Google Plus Project is the latest attempt by the internet giant to have some presence in the social networking phenomenon which is currently dominated by Facebook. We have already share with you an infographic on "The Battle of the Giants – Facebook vs Google" and the launch of Google Plus further intensifies it. 😉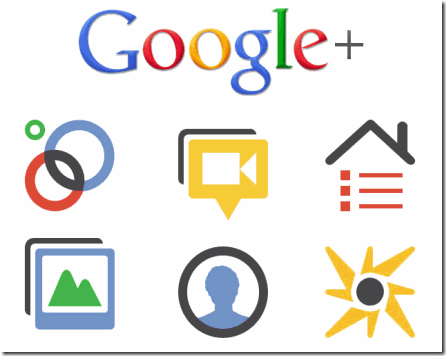 Some people are quoting it as the Facebook Killer as it has got all the features that Facebook has and on top of that it gives you more advanced features that Facebook itself does not, but lets' not forget Google's previous attempts towards the social networking in the form of Buzz, Wave and Orkut which failed badly. 😉
Look and Feel – It is beautiful!
This is the feature which everybody is praising about Google+. It is very neat and clean; many users are praising the sleekness of its User Interface. It is very easy to use and not at all cluttered; I personally feel that Google has finally got it right this time and the credit goes to Andy Hertzfeld, one of the original designers of the Apple Macintosh GUI. The UI is not only tidy and easy to understand but has got a flavour and character of its own.
Unlike Facebook, it does not have any ads anywhere on the pages. But we do not know, if Google also starts loading G+ with Adsense ads. 😛
Also Read: How to apply the New Google+ Cool theme to your Gmail Inbox?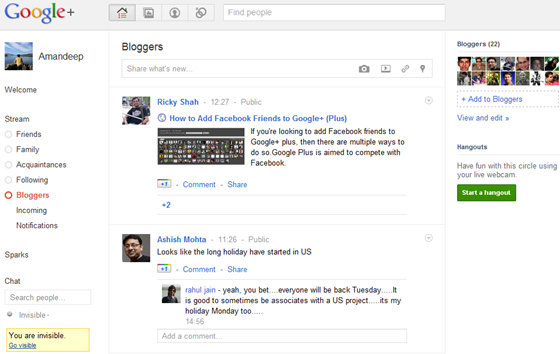 Integration with the rest of Google
The Google Plus integrates really well with the rest of the Google products like Gmail, where you can see the Google Plus notification right on the Gmail top right corner which even allows you to update your Google+ plus status right from Gmail window. The same is applicable to all other Google products like Google docs, Picassa and, Google Reader. This gives Google another advantage over Facebook as Google has a far bigger user base than Facebook, which in the lines of more that 1 billion against Facebook's 700 million.

Google+ itself has the various products like Google chat, Buzz, +1, Picassa albums integrated at the same place reinforcing that Google intends to be social. 🙂

Selective Sharing
Google Plus provides you with the selective sharing option which Facebook currently doesn't. When you want to share a photo or link or a text on Google+, you have an option to share the post with the public or specific Circles only. There can be situation where you want to share information with only your co-workers and nobody else. In that case, you can simply select the specific Circle while posting that update and only the members of that circle will be able to see your update. This is one of the features I liked the most.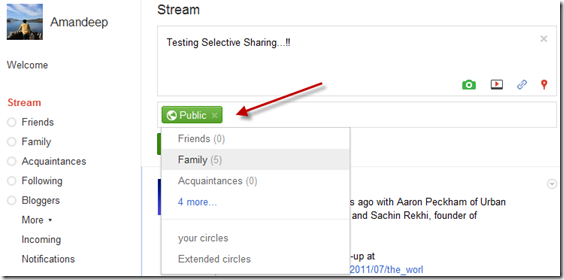 Circles are awesome
Google has changed the way how you group your friends and loved ones by introducing Circles which is a far more innovative way to organise your social media friends. And it is fun too. You can group your friends in different circles which is as easy as drag-and-drop, far more user friendly that Facebook and Twitter lists.
Sparks – Follow your interests the easy way
Sparks is another interesting feature of Google+ using which you can simply search your interest and Google+ will look out for videos and articles that it thinks you'll like, so that when you're free there's always something to watch, read and share. Simply go to the Sparks link in your profile (Left hand side).
When you first arrive in Sparks, you'll see a collection of featured interests. If nothing strikes your fancy, search for an interest in the Search bar and simply "Add Interest"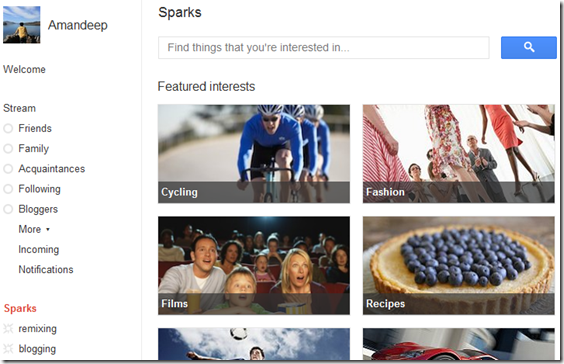 Hangouts – Video Chat Feature in Google+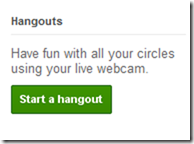 Hangouts is a group video chat feature that allows one user to start a video chat session, called a Hangout – and other users from their Circles can pop in and video chat. A user can start a hangout open to specific Circles, all Circles or even specific people.
You simply need to click on "Start a Hangout" which is located in the right side of the homepage. This opens a pop up where you need to check your webcam and mic are working and add some people from different circles or if you want, you may go Public as well. Once done, simply start the hangout by clicking on "Hangout" button. Below is how the Hangout – Google Plus Video Chat feature looks like.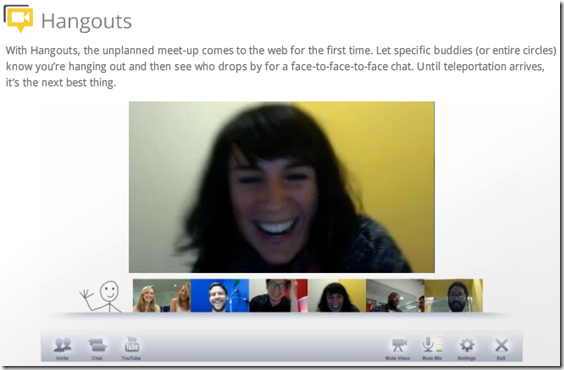 Instant Upload makes sharing Photos and Videos easy
If you are a very much into social networking, you would be sharing a lot of photos and videos with your loved ones. But when you have to take them and upload every time, it sometimes gets very irritating. This problem has been taken care of by Google.
With Instant Upload feature in Google+, your photos and videos upload themselves automatically, to a private album on Google+. All you have to do is decide who to share them with. Once you change the sharing settings, your particular Circles will be able to see your photos and videos. [This feature is open to Android devices only.]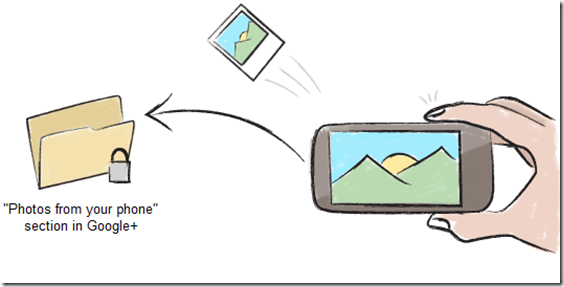 Huddle – Group Chat Feature
Huddle is a group chat feature in Google Plus which allows you to chat with many friends at once. There's no limit to the number of people you can chat with, and any participant can invite others to join.
Above are some interesting features that I likes in the Google Plus Project, the latest attempt by Google to reinforce its ground in the Social networking world. It is nice and fun to use and puts forward some new features which have an edge over Facebook.
People are discussing – Does Google Plus kill Facebook / Twitter? Well, who cares? I am going to use all 3 ;), but more importantly, I'll be using some Google products which I never thought of using before like +1 and Buzz, but because they are integrated into Google Plus now, I have got a reason to explore them more.
How do you like the latest attempt to battle Facebook? Do share your views in the comments section below.