Hello all.
Welcome to a brand new blog where we will be discussing about the latest trends in Web 2.0
This is my very first post on this blog and I am very excited to start a new journey with Technolism. It has been a long time that I wanted to start a blog which was oriented towards the latest happenings in the blogging world, social networking and web related stuff.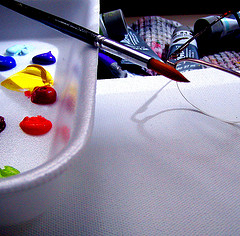 Credit FLICKR
Something about me
I am Amandeep Singh, a Mechanical Enginner by education, a Software Tester by profession and a Blogger by passion and interest.
I started my first blog (on blogger) in Nov 2007 which I no longer update :P. Then in Feb 2009, I started a blog http://www.equitipz.blogspot.com/ in the personal finance niche. Later in June, I moved to custom domain equitipz.com and during the same time I came across many blogs that were self-hosted and were contributing a lot to the community. It took me some 6 months to get motivated enough to move to WordPress. So, finally in Dec 2009 we moved Equitipz to wordpress.
Since then, I wanted to have a blog of my own in the Blogging niche where I can share all that I have learnt in the last couple of years of my blogging. This is where Technolism is born. With TL, we take a step forward to make a name in the blogging world too.
What is Technolism?
Technolism is a platform, where you can find interesting articles on latest Gadgets, Internet, Blogging, Technology & related Tips & Tricks. We will be updating technolism with Blogging tutorials as well, both for blogger and wordpress, with main focus on Wordpess (because we love it). Also, we will discuss about the latest development in the social networking and other areas of the web. You can find various resources and tutorials you need to follow while starting your Blogging Career.
Technolism Logo
The technolism Logo has been designed by our design team. I have tried to keep it simple and clean.

Please provide feedback and suggestion on the logo design. We are always open to change 🙂
Technolism Theme
We wanted to keep the theme of the blog to be simple yet cool. We narrowed down to two themes which matched our requirement – Thesis and Swift.
Currently, we are using Swift theme (by Satish Gandham) on technolism and soon will be making the move to Thesis. In the meantime, Swift is the best alternative to Thesis, in my views. [Update: Technolism is now powered by Thesis Premium Theme.]
A few Words
With the launch of technolism, I would also like to thanks all the bloggers who have contributed great content to the web community and also for inspiring me enough to start my own blog in the niche. Harsh Agrawal deserves a special mention here.
The success of technolism will not be possible without the help of fellow bloggers and readers. We need your good wishes and blessings to make an impression in the community.
As technolism is a brand new blog, you will notice some random updations and changes happening all over the blog over the coming weeks. Kindly bear with us and please keep providing us feedback on the blog design and theme. Your suggestions are what will help us in becoming the talk of the town.
Please keep visiting and commenting on the great content coming your way.