If you are a Google Chrome fan and have been using it for a while, you must have noticed that unlike IE and Mozilla Firefox browsers, Chrome does not have the basic feature of showing a warning message when you click on the close button of your browser window with multiple tabs open.
Imagine you have been doing a research on some topic for a long time and having spent some hours into it, you accidently press the Close button of the main Chrome window instead of closing a particular tab. It may come as a nightmare as you end up losing all your work and the time you spent on it.
Also Read: Empower your email signatures with WiseStamp Extension for Chrome
There is a solution to avoid that problem. It is a very popular Google Chrome extension, called the Chrome Toolbox, developed by Google itself, which brings this very much needed missing feature to Chrome. After installing the extension, go to options and check the setting that says "Confirm before closing multiple tabs" and you are done.
So, after you install this Google Chrome extension, whenever you hit that Close button in your browser again, you will get a prompt to confirm your action.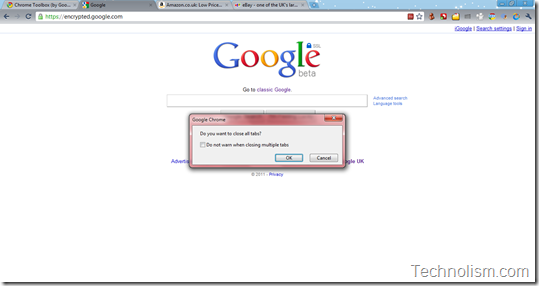 Below are the options which you see on clicking the Chrome Toolbox extension button in Chrome. You can click on Options to configure the settings.
Apart from this basic feature of giving the confirmation pop up to before closing all the browsers, this extension has many more additional features which I have listed below:
# You can Magnify any image on a web page, set it as your wallpaper, and view it in its original size
# Drag any video on a web page out of the page in its own stand-alone window
# Save and restore un-submitted form data, to avoid data loss caused by session expiration
# Put your favourite Chrome functionalities in the drop down menu
I am using this extension for quite some time now and I must say, this extension not only boosts your productivity while using Chrome, but also helps you learn a lot of browser functionalities and shortcuts that are mostly hidden.
You can direct your browsers to the below link to install Google Toolbox.
Google Toolbox Chrome extension