In my last post of 2010, I had mentioned some of my goals and wish-list as a blogger for 2011, out of which one was to make Technolism a CommentLuv enabled blog.
To encourage more comments from our readers and to increase the interaction with other bloggers around the internet, Technolism is now CommentLuv enabled.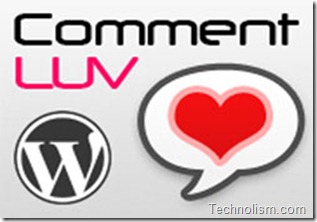 What is CommenLuv?
If you are not known to what CommentLuv is, with the help of this plugin, whenever you comment on Technolism, CommentLuv will grab your blog's latest article and link to it; something like in the below image.
Why CommentLuv on Technolism?
Technolism is a place where we write about the latest trends in Web 2.0. This includes WordPress Tutorials, Social media updates, Blogging, softwares, Internet Tips and tricks, iPhone tips and so on. We value our visitors' comments and feedbacks as they mean a lot to us.
By enabling CommentLuv on Technolism, we are giving the fellow bloggers more exposure as they can show off their latest blog post in comments section by commenting on this blog. Also, this will help in encouraging more comments on Technolism and help us build a community of readers around this blog, which is the sole reason behind the inception of Technolism.
So, this is a win-win situation for both Technolism and YOU, as a blogger as this will help you in getting more and more referral traffic from Technolism.
Start Commenting
This is simple. Just start commenting and CommentLuv plugin will do the rest by fetching the last post from your blog providing you and your blog more exposure by giving you a backlink to the homepage of your blog and an additional link to one of your latest posts.
Register Your Site at ComLuv
As a webmaster or blog owner, to make the most out of CommentLuv enabled for commentators,  you should first register your blog at ComLuv. The reason is, unregistered blogs are usually allowed to leave behind their latest post on a CommentLuv enabled blog, but as a registered user on ComLuv, you can select any post from latest posts on your blog.
So, what are you waiting for? Start commenting and gain more traffic and backlinks from our site to yours. 🙂