After being in rumours for almost 5 years, Google finally launched its online cloud storage service, Google Drive. The service was announced to be available to the public at the Google's official blog. Google Drive comes with 5GB of free online storage with loads of features. Just to let you know, Google Drive is not the first of its kind and it already has competition from some majors in this field – Dropbox, iCloud, Microsoft's Skydrive and LogMeIn's Cubby to name a few. It comes with 5GB of free online space to start with and you can of course buy more space at an additional price.
With the launch Google Drive, Google also has jumped into the lucrative business of online cloud storage and with more and more people getting very particular about protecting their personal data, this seems to be a safe bet.
Here is a quick comparison of Google Drive with DropBox, SkyDrive, Box.Net & SugarSync which will help you decide the best option for you.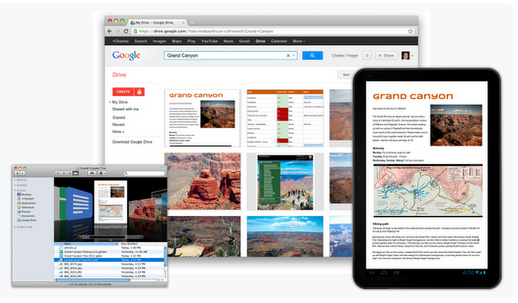 As Google drive has been in the rumours for more than 5 years now, announcing the service on its blog, Google joked about its new product comparing it to the Loch Ness monster, and confirmed that unlike the mythical creature, Drive actually does exist. Below is an excerpt from Google blog.
Just like the Loch Ness Monster, you may have heard the rumors about Google Drive. It turns out, one of the two actually does exist.

Today, we're introducing Google Drive—a place where you can create, share, collaborate, and keep all of your stuff. Whether you're working with a friend on a joint research project, planning a wedding with your fiancé or tracking a budget with roommates, you can do it in Drive. You can upload and access all of your files, including videos, photos, Google Docs, PDFs and beyond.
As I mentioned Drive comes with 5GB free space which is enough to store the high-resolution photos of your recent trip, scanned copies of your important documents and still you would be left with some space. Still, if 5GB is not enough for you, Drive comes with an option to upgrade to 25GB for $2.49/month, 100GB for $4.99/month or even 1TB for $49.99/month. When you upgrade to a paid account, your Gmail account storage will also expand to 25GB.
Check out the below video for Intro to Google Drive:
What do you think about the cloud sharing service from Google – how well is it going to compete with the other players in the market?
Are you going to make the move to Google Drive?