There seems to be a tsunami of Google attacks on unwary and unsuspecting blog and website owners. Those who have escaped the fury are a happy lot. Those who got mauled are wondering what hit them. Most people assume that the Panda is the culprit mainly because this update has been in the news. But many are unaware that the new Penguin update is more dangerous and ugly. Check out our earlier posts about the Google Penguin Web Spam Algorithm update below.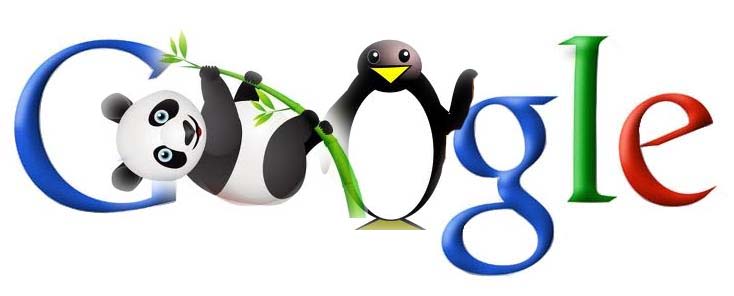 The Good Old Google Panda Update
I call it good old Panda update because it has been around for some time now. Other than that there is nothing good about it. Google Panda update went after blogs and sites which provided poor quality content. There is a complex algorithm which calculates the quality of your content and it seems that it works well except in a few cases. Google says it's worth sacrificing these blogs and sites for the larger good. The blog owners would tell you a different story. Anyways the last known Panda update was on 19 April 2012.
The remedy for escaping this update is to keep your site filled with great content. Another reason why you may have been victimized is because you participated in some link exchange or link network. It's always good practice to get backlinks from reputed sites and not from link farms. If you already have links from doubtful places it's time you purged your blog from them.
The New Google Penguin Update
This is the latest weapon which Google has launched on blogs and websites. Google Penguin Web Spam Algorithm update attacks all spammy sites and eliminates them from the search results. If you are smiling because you are confident that your blog doesn't fall in this category, you might as well wipe that smile off from your face.
Many nice and excellent websites have been struck down by Google because they suspect that these are spammy. Even over optimized sites have fallen prey to Penguin. The worst is that Google will not consider re-indexing your site even if you prove that your site is genuine. This seems to be a new kind of nepotism about which you can do nothing except prey to your respective gods.
If you have escaped the wrath of Penguin, it's still not time to sigh and sit back. You must actively reconsider all your content and SEO strategy. If you are a lover of SEO it's time you fall out of love. It's simple – either you kill the over optimized content or be killed. Go through your website or blog carefully. Find and erase all traces of optimization. Let your content look natural. You must forget about keyword density as well – 2% keyword density is now history. It's the Title, keywords, positioning – everything which is coming under the Penguin scanner.
Conclusion
Google wants to make its search the best. In this endeavor, it's going hammer and tongs in eliminating poor content. Google Panda and Penguin are attempts in this direction. As blog and site owners, we must either live with the updates or face consequences.
This is a guest post by Victor who is an online marketer who likes to share his views and experiences with fellow bloggers.