Ultrabooks are getting more and more popular day by day. The reason behind is the portability and lightweight. Portability is however, the best and most admired feature of an Ultrabook although there are several other factors that must be considered before buying one. I have already shared with you a list of 16 best ultrabooks in the market from various brands which would help you in picking up the best one for you.
It is not a wise decision to go to the store and buy just any Ultrabook; there are a few important features that you must ponder upon before taking a final decision. There are a few aspects which I value the most and I am mentioning them here hoping that they help you in taking the final decision whether to buy a Laptop, Notebook or an Ultrabook.
Also Read:Â 16 Best Light and Thin Ultrabooks To Watch Out For In 2012
What is an Ultrabook?
This editorial is specifically about Ultrabooks and so let me first tell you what an Ultrabook is? Ultrabooks are the futuristic, light weight, thin and portable Notebooks launched by Intel. These Notebooks are outfitted with high end graphics and features. These easy to carry thin Notebooks, are much loved by the techies.
Buying Guide for Ultrabooks, Notebooks or Laptops
Portability
If a Notebook is not portable; trust me it is not an Ultrabook. Before paying your hard earned money make sure that it is a thin, light weight and portable Ultrabook and not just a slimmer Netbook. Usually the Ultrabook weighs about 2.5-3 pounds.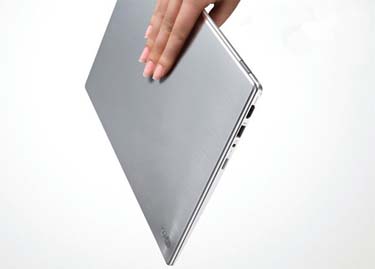 Display
Ultrabooks are featured with high end graphics and, thin and high quality display screens. You need to make sure the quality of the screen before making the final decision. Screen resolution of a good quality Ultrabook must be impressive with high end graphics.
Functionality speed
This is a very important feature to be checked in an Ultrabook. Make sure that the system you are buying has a good processor speed – most commonly used Intel powered processor is the Core i5/i7 from iSeries Ultrabooks.
Stringency
Do not forget to check the rigidity of the Ultrabook before buying it. Try applying some pressure on the lid and you will know about the stringency of the exterior body material.
Is it getting heated up?
I know the Ultrabooks are very thin and light weight but that doesn't mean it should have less capacity than any good Laptop. Before you finally buy it, check if it is getting heated up after working for 1-2 hrs.
Battery life
As you may be travelling around with your thin and light ultrabook, it makes sense to have a good battery backup. Ideally an Ultrabook works for 5 continuous hrs in a single charge, so check for the battery life for the Ultrabook you are paying for.
Touchpad
Never go for an Ultrabook with a touchpad without buttons. Usually makers give a button-less touchpad to offer sleekness but let me tell you that such touch pads are never comfortable to work with. Such touchpads are jumpy and also give a poor palm rejection. I like Toshiba Portege Ultrabook the most in this context as it is the one providing separate buttons along with the touchpad.
USB ports
Usually the makers give less USB ports to keep up the thin and sleek look of the Ultabook but if you ask me, I would never compromise with the USB port number or a SD card slot. I have seen a few Ultrabook which not even boast a SD card slot to make them look slimmer. I usually transfer my videos and pictures through the SD card so I would never buy such an Ultrabook. I use my Ultrabook for my personal use but if you are using it for business purpose you better check for the VGA port and an Ethernet port before buying it.

Above are some factors which I would look for in an Ultrabook before finalising it. I would love to know what features you consider while buying a Laptop, Notebook or an Ultrabook. We really appreciate your opinion which would also help the fellow readers.