After last year's killer Black Friday offer from Hostgator, this year again Hostgator, a world leader among internet website hosting providers, is back with one of the amazing deals with a flat 50% discount on all its hosting plans.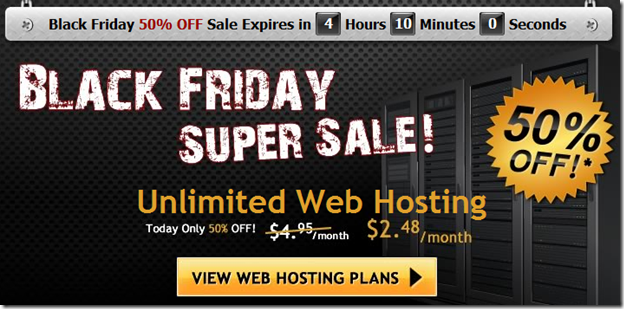 This year they have kept the things simple with a flat 50% discount on its range of hosting services unlike last year where they had divided the discounts into time slots offering 80% OFF EVERYTHING initially and then dropping to a discount of 50% OFF EVERYTHING. This led to a lot of fuss last year.
This years offer is quite straight forward and simple. This 50% dicount offer applies to ALL Accounts and ALL Term Lengths.
This includes Shared Hosting, Reseller Hosting, VPS Hosting and even Dedicated Servers! But, for VPS and Dedicated servers hosting, the discount applies to only the first month. Hence, as per my advice of you are looking to but a shared hosting, now is the time to do that.
This comes as a real great offer for the bloggers who are planning to migrate from Blogger to WordPress, and also for the ones who are yet to start a new blog and enter the world of blogging or simply want to change your hosting provider.
Below are the effective prices that you will get as a part of this Great Black Friday Sale from Hostgator:
Shared Hosting – $4.95/month AS LOW AS $2.48/month
Reseller Hosting – $24.95/month AS LOW AS $12.48/month
VPS Hosting – $19.95/month AS LOW AS $9.98 First Month
Dedicated Servers – $174/month AS LOW AS $87.98 First Month
As you can see, this is an absolutely CRAZY DEAL and one thing to remember is, this offer is only running for 1 DAY on Black Friday. Don't miss out on this incredibly LUCRATIVE offer.
So check out the below link this Friday and make huge savings on your Webhosting.
Subscribe to our email newsletter now and we'll make sure that you do not miss on any such events and promotions coming in the markets!