When I got my new iPhone 4 last week, after playing with it for hours and days, I thought for a while that I need to copy all the contacts from my existing Nokia 5800 XpressMusic Phone which I have been using for the past one and half years and put the iPhone to its intended use, that is, use it as a phone :P.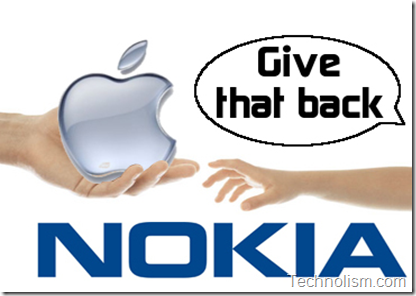 <Image Credit>
I thought that I would have to copy all the contacts one by one as mine is a locked phone which I have taken on a contract from O2 (here in UK) which kept me away from doing that till now. But then I found out an easy way to do it which took me not more than 10 minutes to copy all my contacts from Nokia to iPhone.
If  you want to transfer all your iPhone data to Android, check out this detailed tutorial.
Copying Contacts from Nokia Phone to MS Outlook
Step 1:
You need to Install Nokia PC suite on your machine, if you do not have it already. Also, You need to have MS outlook or outlook express installed on your computer.
Connect your Nokia Phone to your computer using data cable or Bluetooth.
Step 2: [Updated]
Go to Sync >> Sync Options.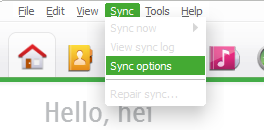 Now, click on 'Contacts' in the left section, and then select the option "Microsoft Outlook" (radio button) under the section "Sync with contacts application." Now, click on OK in this window.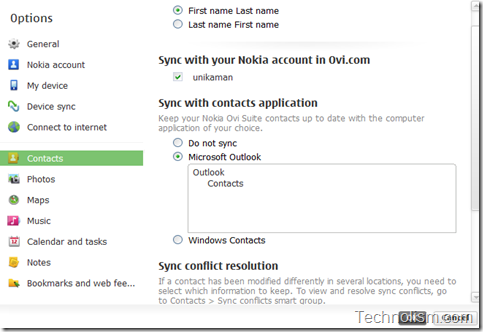 Step 3: [Updated]
Now, click on 'Sync' button for contacts in the Ovi application home. You will find this in the lower left corner when you click on the Home Tab or Contacts Tab on your Nokia Ovi Suite. If you want to sync all you data, you can click on 'Sync All' option which is shown in the Home tab, or you can click on 'Contacts' tab and this same button will change to 'Sync Contact' clicking on which you will be able to sync only your contacts.
[As I no longer have my Nokia 5800 with me, I have shown below a screen grab from Nokia help section.]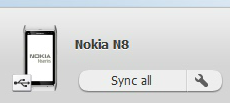 This synchronizes contacts from your Nokia Phone with MS outlook, which means this will transfer all your contacts to MS outlook.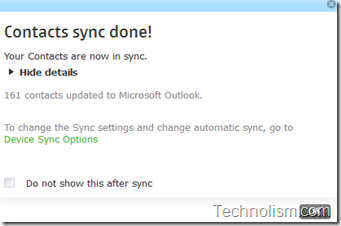 After you get the above confirmation message, close the Nokia PC suite, disconnect Nokia Phone from computer.
Copying Contacts from MS Outlook to iPhone
Once the Steps 1-3 are completed, all your contacts are copied to MS Outlook on your machine. Now, to completely move your contacts from Nokia to iPhone, you simply need to sync them to your iPhone.
Step 4:
Connect the iPhone to your computer and launch Apple iTunes software. Click on your iPhone Device in the left tab on iTunes which will show the summary of your iPhone.
Step 5:
Click on the Info tab for your Apple iPhone.
Click on the check box for "Sync Contacts with" and leave the value selected as default i.e. Outlook. Leave the option selected as All Contacts below that. Refer to the screenshot below. (Click to enlarge)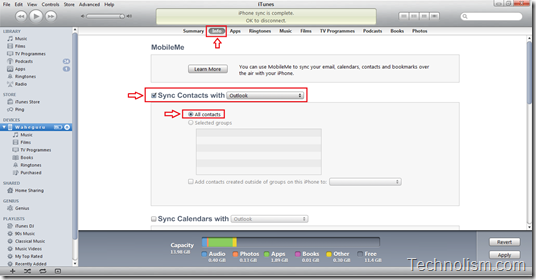 Step 6:
Click on the Apply button.
iTunes will start syncing Microsoft Outlook contacts on to your new iPhone and once it gets completed, you can see all the Nokia Phone contacts on your new iPhone.
And, you are done!!
You can use the same steps above to copy contacts from iPhone to Nokia Phone as well. You need to simply reverse the process. Start with syncing iPhone contacts to Outlook and then sync them from Outlook to Nokia Phone.
Also, this can be used to transfer contacts between any other phone (which gives the option to sync with Outlook) and iPhone.
Hope you find this post easy and informative. How do you transfer contacts between your phone, do share with us if you have a better way of doing it.
If you think the above process is too geeky for you to follow, you can transfer Nokia phone data to iPhone using iNoki iPhone app – another easy way to do it ;)! Read the full tutorial here.