As we already updated you in the last post, Apple has finally revealed iOS 5, the latest version of its mobile operating system as announced in its "Let's talk iPhone" event held on October 04.
iOS 5 is a major upgrade to Apple's mobile operating system which is compatible for all its iOS series of devices; iPhone, iPad and the iPod Touch. It has got a slew of awesome features which will make your iOS experience more exciting. 😉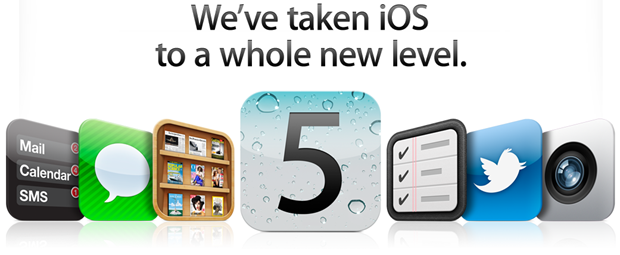 iOS 5 comes with some awesome features like Notifications which is somewhat Androidized version of showing notification update. It has also got Location based reminders which will not let you forget a single thing. Twitter is not integrated to you iOS device to to the core – you will not have to login to twitter every now and then, you need to do it once and you are done.
Another much talked-about and exciting feature is iCloud which would allow to keep all your iOS data in the cloud which would allow you to sync all your iOS apps without you even noticing it. iMessage is something which would change the way you communicate between iOS devices – it is more like Blackberry Messenger.
To experience all the above features, you can download iOS 5 from iTunes or if you would like, you can direct your browsers to the below direct links:
So, go to the above links and enhance your iOS experience. Do share with us your feedback about iOS 5 in the comments below.