As per the reports from MacRumours, Apple has introduced a new feature to its Mac App Store wherein now, users are given a warning message if they are trying to buy an app which is already installed on their Macs but had been purchased from somewhere else (other than the Mac App Store).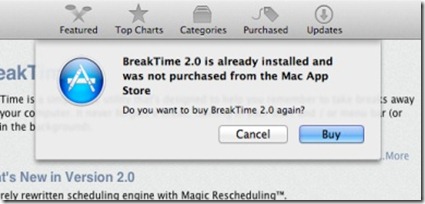 The new warning message says:
[App name] is already installed and was not purchased from the Mac App Store

Do you want to buy [app name] again?
So, next time when you are trying to buy an App from the Mac App Store which has already been purchased elsewhere, you will get a pop-up message warning that the app has been previously installed but that it has not been purchased from the store. This  step helps prevent accidental double purchases of apps in cases where users fail to realize that they have an application already installed.
However, there is still a big caveat to this new warning message being shown to users – the existing app and the Mac App Store App must be the exact same version. As a result, users will still need to be careful while trying to install apps which are already installed on their computers, when browsing the Mac App Store.
We hope that Apple would come up with a solution in the future which would still warn the users even if the version of the installation and Mac App Store is not the same.
What do you think about this new warning system introduced in Apple Mac App Store? Does it sound any useful to you?