Since the announcement of iPhone 4S and its most talked about feature, Siri, at the Apple iPhone event this month, I have been wondering, with no big difference in the iPhone 4S and the iPhone 4 (except for the A5 chip and the 8MP camera), why is it not possible to access Siri on an iPhone 4?
For many others who have been thinking the same, here is a good news for you – someone has got Siri working on their iPhone. As reported by 9to5Mac, developer Steven Troughton-Smith has ported the iPhone 4S voice command system, Siri to his iPhone 4. He has been able to get Siri working on an iPhone 4 by installing the iPhone 4S Siri and Springboard files onto an iPhone 4.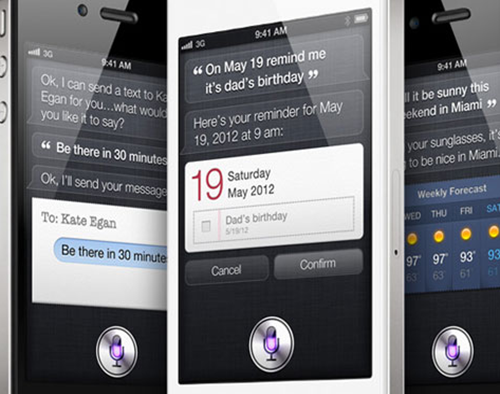 Before you get over-excited and take out your iPhone 4, please note that this can be done on a jailbroken iPhone 4 as this is not sanctioned by Apple as of now. (Obviously, who would get an iPhone 4S then :P)
Check Out: Should you upgrade from your existing iPhone 4?
As you can see in the video below, Siri's interface loads up with all the features from the iPhone 4S implementation on an iPhone 4. Siri on the iPhone 4 can recognize spoken commands in both the standard Siri view and the keyboard Dictation view. However, as of now, Apple is not authenticating commands to its servers routed from an iPhone 4 hardware. The Siri port to the iPhone 4, at this point, also has the ability to speak back to the user.
Also, Siri on iPhone 4 is quite sluggish, the reason for which has been mentioned by 9to5Mac as:
The issue here is not Siri, but is that a special GPU driver for iPhone 4 is needed; and it is obviously not included in the iPhone 4S binary cache – where the Siri files are located.
So, what do you think? Are you going to
make Siri accessible on your iPhone 4
? I am not going to do it right now but wait for some more time or get an iPhone 4S before that (maybe, next week ;))
Update: Below is another video showing a better performance of Siri on an iPhone 4.
Anyways, from this video as you can see, there is no technical constraint for Apple not to allow Siri on the iPhone 4, as iPhone 4 is able to support the Siri AI system, very well; A4 chip is quite powerful. Or, is it that Apple thinks it would run more smoothly on the A5 chip? Or, is Apple doing this to give people the reason to buy an iPhone 4S? What do you think? 😉
[via 9to5Mac]