The Research In Motion's CEO, Mike Lazaridis, announced the company's new tablet, the PlayBook at their annual BlackBerry Developer Conference.
The tablet will utilize an OS created by the recently acquired QNX which they are calling as the BlackBerry Tablet OS which will offer full OpenGL and POSIX support alongside web standards such as HTML5.
The company's founder, Dan Dodge shared the stage with Mike and said that "QNX is going to enable things that you have never seen before," and also added that the PlayBook would be "an incredible gaming platform for publishers and the players."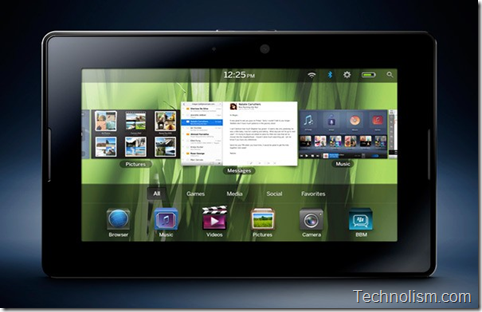 At the conference, RIM expressed the PlayBook's ability to handle Flash content via Flash 10.1, as well as Adobe AIR apps unlike its to-be-close competitor, the Apple iPad. The new device, that the company is describing as "the first professional tablet" and the "fastest tablet ever", is sporting a 7-inch, 1024 x 600, capacitive multitouch display, a Cortex A9-based, dual-core 1GHz CPU, 1GB of RAM, and a 3 megapixel front-facing camera along with a 5 megapixel rear lens. It supports Video conferencing too.
The list does not get over here, the PlayBook will be able to take 1080p HD video, and comes equipped with an HDMI port as well as a microUSB jack, 802.11a/b/g/n WiFi, and Bluetooth 2.1.
Below is a preview of the Blackberry tablet, PlayBook:
The main features of the Blackberry Playbook, which pose it as an iPad killer from RIM are listed below:
Screen – 7″ LCD display, 1024 x 600 screen resolution
Multi-touch capacitive screen, On-screen keyboard
1 GHz dual-core processor, 1GB RAM
3 MP high definition forward-facing camera
5 MP high definition rear-facing camera
Audio playback: MP3, AAC, WMA
True multi-tasking
Codec support for superior media playback, creation and video calling
Open, flexible application platform with support for WebKit/HTML-5, Adobe Flash Player 10.1, Adobe Mobile AIR, Adobe Reader, POSIX, OpenGL, Java
1080p HD video; H.264, MPEG4, WMV HDMI video output
Built-in Micro USB and Micro HDMI
Wi-Fi® 802.11 a/b/g/n
Ultra thin and portable: 5.1″ x 7.6″ x 0.4″ (130mm x 194mm x 10mm)
Weight – 0.9 lbs (400g)
The analysts are estimating this great device to be priced around $300 – $350 which is almost 50% at what iPad is priced, with so many extra features to offer as compared to the technology giant Apple's iPad. I think Blackberry is going to give tough competition to Apple with offering so many additional features compared to iPad. We will soon come up with a detailed comparison between the Apple iPad and the Blackberry tablet: PlayBook. So, stay tuned.
Apple started the trend in tablet computing by bringing out the iPad and after that every gadget company has got into the hoard of launching their own tablets in the markets. So many additional features, compatibility with various platforms, prices so competitive, these companies are surely going to sport tough competition to the Apple iPad. What do you think?