Some time back we shared with you the news about Commonwealth Games Song "Oh Yaaro" launched by AR Rahman. The Indian Government is trying all means to make the CWG experience better for everyone. Now, having the latest updates on the happenings around the Commonwealth Games will not be difficult anymore as you can easily access the latest information right at the comfort of your Mobile.
A mobile application called "Zoomi" has been launched which is the answer to "XIX Commonwealth Games Mobile Infotainment". Zoomi will provide the latest information on the events in Commonwealth Games.
Follow the fever of Commonwealth Games on your mobile and also get the latest news about the various events. Using this application you can easily track your country in various sports, Medal Tally, Games Videos, Live updates, audio and Wallpapers.
Zoomi has been developed  by Smile of India. Smile Of India is a knowledge services firm headquartered in Ahmedabad in partnership with KPMG, the leading global professional services firm.
According to a company spokesman,
From information on participating Commonwealth nations to photographs and achievements of past Games to details about Delhi and India to latest and breaking news, the application would have it all in a Rich Visual format.
The main features that Zoomi provides are:
Access to CWG digital contents
Live Update, News, Video, Audio, Photos
In built Sports Encyclopedia
Archives of Olympics 2008, IPL 2010, FIFA 2010, Games, Sports Quiz
Delhi City Information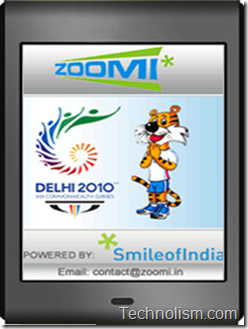 You can download the Zoomi app for your Mobile phone here:
You need to go to the link and enter your details to get the SMS / Email containing the link to download the app directly to your mobile.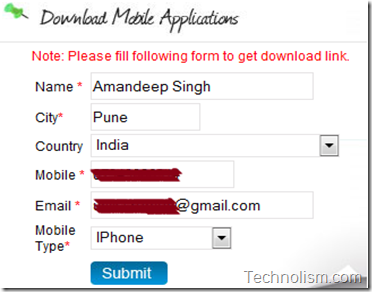 The application is compatible with almost all the Mobile brands except for the Apple iPhone; for iPhone there is a separates application which we will be covering in our next post. Subscribe to our Email newsletter to stay updated.
For now, the Apple iPhone users can access Zoomi app from the link: http://m.zoomi.in
The various screen grabs from the Mobile app are as below: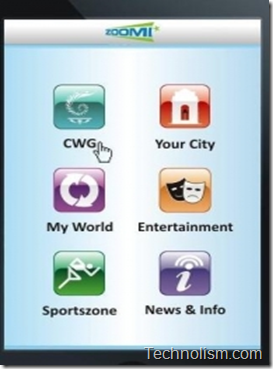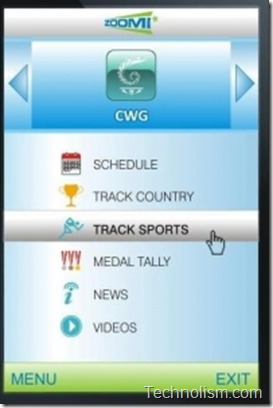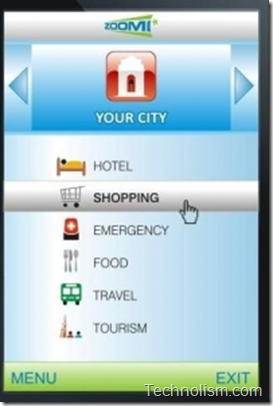 Have you downloaded Zoomi onto your Mobile device? If not, go ahead and do not miss a single update on how your country is performing at the Commonwealth Games.
Share your views in the comment section below, what you think about the application.