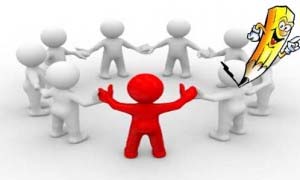 Social networking sites have become an inseparable part  of our lives. These sites not only allow you to chat and play games but also connects people with same interests together. Putting general masses aside, social networking has proved to be quite beneficial for authors and writers too. How? It provides useful tips, information and ideas to writers and allows them to create an online network via which they can discuss and share various issues related to their writing skills.
Thus, to help writers and bloggers share their creativity online, many social networking sites have started coming up. Here is a list of top 10 social networking sites for writers and bloggers. Before we move on to the list, below are some articles which you would like to read.
Top 10 Social Networking Sites for Writers and Bloggers
Facebook.com
The most popular social networking site that connects people and allows them to share ideas, photos and links with others. You can use 'Share on Facebook Toolbar', visible on most websites for this purpose. [Also Read: 15+ Facebook facts you would like to know!]
WritingRoom.com
It's an excellent social networking community for writers that offers you an opportunity to create your profile and join network groups. You can write and post your work on the website and can also take writing tips from the panel of expert article writers. [Check Out WritingRoom]
StoryLink.com
The writers can join this social networking community by creating a free account with the website. This online educational as well as networking site is already joined by a number of professional and newbie writers where you can find a vast collection of informative articles and creative work. [Check Out StoryLink]
Squidoo.com
Squidoo is another popular social networking site that allows you to post your pages on the site called as 'lenses'. These lenses give you more links coming your way to the site and also allow you to set up a connection with the people having the same lenses. Moreover, at Squidoo you can also see Amazon book sales and upload YouTube videos on your page. [Check Out Squidoo]
Writertopia.com
This online social networking site includes various interesting writing tools, workshops and events to support the creative writers to manage, improve and post their articles. [Check Out Writertopia]
WeLikeToWrite.com
It is a new social networking site for both professional and amateur writers and bloggers. You can create your free profile and join groups, enjoy live chat in a chat room, upload photos and videos, send messages and collaborate with other writers on 'We Like To Write'. [Check Out WeLikeToWrite]
AuthorAdvance.com
This free social networking site enables writers maintain strong online communication with other writers and post their own blogs and posts. Not only this, you can also participate in forum discussions and writing contests organized by the website. [Check Out AuthorAdvance]
FanStory.com
This networking site organizes free contests for the newbie and professional writers after joining the site for free. A unique feature of this site is that it allows you to create your own contests for other writers who have joined the community of the Fanstory. [Check Out FanStory]
InkNIt.com
This is a great networking site for writers and bloggers. It offers a good opportunity for online and offline writers to share their creativity, their writing skills and talent with other community members with the help of various artistic tools and mediums. You can also build your personal eFolio, and enjoy the functionality of Facebook, Scribd and Linked In. [Check Out InkNIt]
TriggerStreet.com
This is a web based filmmaker and screen writer community that supports an interactive communication among a number of writers worldwide. It also takes serious efforts to discover new talents and skills in the field of writing and also showcase them through their website and network community for writers. [Check Out TriggerStreet]
I hope these social networking sites will help you out in getting the maximum exposure for your content. Do let us know which one suits you the best and why.