2012 is an year in which three titans of the mobile industry are destined to clash. Apple has been redefining smartphones since it launched the original iPhone in 2007, but 2011's iPhone 4S was seen as an indication that its products could be stagnating. Meanwhile, Samsung and HTC have been fighting it out with high end Android smartphones, trying to top one another when it comes to hardware and software.
The iPhone 4S, Samsung Galaxy S3 and HTC One X are the three champion devices which want to take the crown, but which is worthy of your money and which two should be left on the shelf, here is our take on that.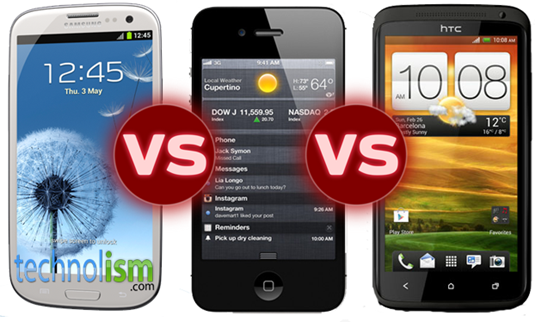 Comparison: Samsung Galaxy S3, iPhone 4S & HTC One X
Hardware
Both of the Android handsets have a distinct advantage over the iPhone 4S when it comes to processing power. This is because the dual core chip doing the number crunching inside Apple's device is bound to be outpaced by the quad core CPUs that Samsung and HTC have packed into their latest models.
The One X has the Tegra 3 processor from Nvidia, while the Galaxy S3 will use Samsung`s own Exynos processor, which is clocked at 1.4GHz rather than the 1.5GHz provided on HTC`s phone.
The Android models are also at an advantage when it comes to display technology. While the iPhone 4S's Retina Display when it first appeared in 2010 was king, it has since been superseded in terms of size and resolution.
The One X features a 4.7 inch display with a 1280×720 resolution and while the Galaxy S3 comes with 4.8 inch super AMOLED HD display with resolution of 1280×720 pixels.
Software
Both the Galaxy S3 and the One X feature version 4.0 – Ice Cream Sandwich – of the Android operating system, although each will operate in its own distinct way thanks to interface adjustments made by their respective manufacturers.
HTC's Sense 4.0 UI is widely praised as being one of the most customisable, slick and user friendly Android augmentations on the market. Meanwhile Samsung has been catching up quickly with each subsequent launch of its own TouchWiz UI, so the Galaxy S3 is sure not to disappoint.
The iPhone 4S runs iOS 5 and on the surface remains at least aesthetically similar to its predecessors. However, with killer features including Siri, the voice controlled personal assistant service, it easily keeps up with Android 4.0. In addition the wealth of apps available to download to the iPhone is still unrivalled in terms of both quality and quantity.
Related Posts:
Design
It is tough to tell an iPhone 4S and its predecessor, the iPhone 4, apart at a glance, which could be used as a criticism. However, the stunning glass and metal design of this phone remains a strong point. The HTC One X has also received praise for its slender, expansive chassis and top notch build quality. Supposed to be available from 29 May, Galaxy S3's has a minimal and organic design which has some of the features from the other models of Galaxy line, and is sure not to disappoint.
So which of these models will be part of the best mobile phone deals for you? In reality it is down to personal preference, budget and gut instinct. None of these high end mobiles will be a disappointment if you decide one of these today.