How many times does it happen; you find an informative article online and because it is quite lengthy, you end up not reading it, just because you were running out of time? It happens to me a lot of times, and in situations like this, I make use of the 'reading list' on my Mac and later continue reading the article on iPhone or iPad.
If you don't have an iPhone or iPad, you can make use of the sync feature in Firefox and Chrome using which you can continue reading on your Smartphone.
There is yet another option using which you actually don't need to read the whole article, instead read a summary of it!
How?
There are some great web apps available out there, which make your life easy – simply copy the whole article which you plan to read and copy the content into the summarizer app. The auto summarizer app will shorten the content for you in the number of lines you desire to read it in.
Also check out:
Summarizer apps are really useful for bloggers as most of the times all we need is a glimpse into a particular news piece to get an idea of what is being talked about in the article. And, if you are a student preparing a thesis and need a summary quickly on a topic, summarizers act as real life-savers!
Here is a free summarizer web app which makes the things easy for you!
It is called Free Summarizer…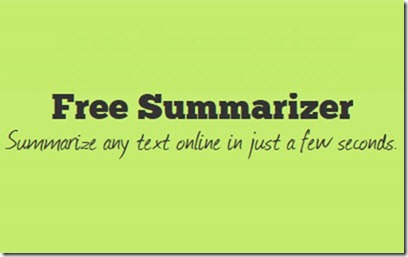 Using this free web app, you can shorten any text online, and that too in a few seconds. And, it is very easy to use.
Here is how it looks like…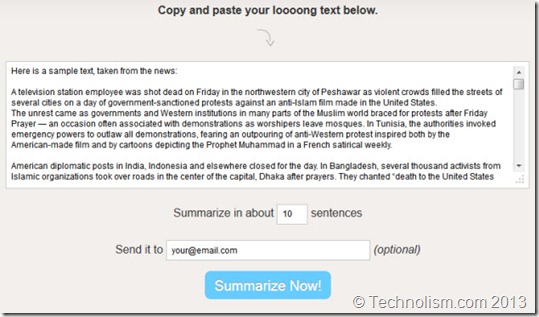 So, simply copy the content from your favourite article, and paste it into the text area in Free Summarizer. Then specify the number of lines you want the article to be summarized in. You can also enter your email address to have the article summary emailed to any email address.