Another month passed by and July 2011 was another good month in terms of traffic for Technolism. August is almost over and I know that the report for July is being published a bit late, in fact, very late :P. Actually, I was very busy in planning my first vacation to India after 18 long months (quite long, phew!) from London, UK.
I am currently in India now for 3 weeks out of which 2 weeks are already gone 🙁 and I have extremely busy these days which is the reason for this delay and still I did not want to miss this report. Now, while writing this, I realized that this is interestingly Technolism's first post from India. 🙂 Till now, I have been updating Technolism whenever I got time from my full time job in London.
With  the 165 odd articles in the last 14 months of Technolism's inception, we have been getting decent traffic in the last few months with more than 80% coming from organic sources – Search Engines. Lets have a look at the detailed numbers for the month of July.
Traffic Stats Overview:
Visits: 27,733 (+44% over last month)
Page Views: 36,077 (+25% over last month)
Traffic Sources:
The Organic traffic is, like earlier months the main source of traffic for Technolism with the range now close to 80% coming from Google Search engine alone.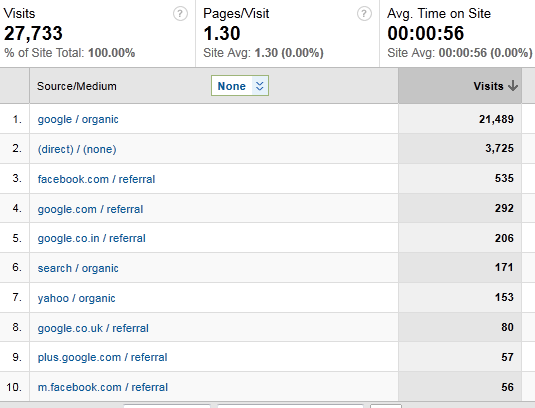 How has your traffic for the month been? Do share with us in the comments section below.